Thailand's Doi Kham has rolled out a new range of HPP cold-pressed juice in shot format. Doi Kham is an entity formed by the Crown Property Bureau at the request of King Bhumibol Adulyadej to set up a business to buy products from royal projects and farmers at fair prices and sell quality products to the Thai population.
Doi Kham has clearly communicated the functionalities of the new HPP juices in its social media postings. The eye protection drink comes with the image of an eye and the digestive health drink with an image of a toilet roll.
The HPP cold-pressed juices in 70ml come in three variants. They are priced at THB 65 each.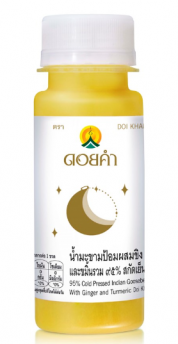 The digestive drink contains Indian gooseberry, ginger and turmeric to balance the digestive system.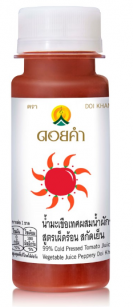 For alertness, the afternoon shot contains cold-pressed tomato juice in with celery, carrot, beetroot and spicy chilli that is high in vitamin A and C.
For eye health, the shot, recommended to be consumed in the morning, contains beta carotene (1,130 μg/70 ml) from gac gruit with mixed fruits.