Indonesia's Cimory has launched its range of yogurt drinks in the Philippines. Cimory The Mountain Dairy is a tasty fermented milk made from 100% fresh cow's milk and contains good active bacteria, important for digestive health. The Cimory mini yogurt drink is said to contain 2x more protein, 20% less sugar and 2x more calcium compared with other probiotic drinks.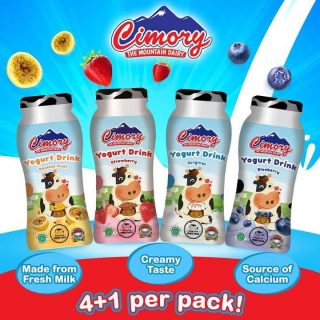 The mini yogurt drinks for children are available in four flavours: Original, Strawberry, Blueberry and Passion Fruit.
Also available are the Cimory yogurt drinks in Strawberry, Blueberry and other flavours containing fresh milk and less sugar as well as in carton format.
First launched in the Philippines in August/September 2020, Cimory joins other Southeast Asian dairy companies like Dutch Mill tapping into the yogurt and probiotic drink space. Asahi from Japan has recently launched Goodday cultured milk in the local market. Philippines will be an interesting country to watch in the coming years as a booming dairy market.