24 November 2020, Singapore – With the festive season soon upon us, Janice Wong is inviting all of us to experience the sweetest of Christmases with the launch of Larger than Life. This exclusive range of chocolates, cookies and cakes has been handcrafted to bring happiness and festive cheer in a year where a little extra dusting of magic makes all the difference.
The 2020 collection of holiday sweet treats will transport you to an exciting Winter Wonderland filled with oversized creativity, colour and imagination. Larger than Life was inspired by Janice Wong's adventures across Europe and offers the perfect range of gifts to share with loved ones this Christmas.
This year sees the creation of four handmade Christmas Cake Specials. Unique and delectable flavours include Raspberry Pecan Nougat Banana Cake in the shape of a Christmas tree; Blackcurrant Praline Dark Chocolate modelled on a festive bauble; a Santa hat filled with Raspberry Pistachio Lime, as well as a classic Christmas Fruit Cake. All cakes are priced at S$9.50 and are available for purchase from the 15 November until the end of December 2020.
Janice's much-loved Strawberry Champagne Cake (1.2kg) from her first High Tea series that celebrated her part in the movie, 'Ottolenghi and the Cakes of Versailles' will also be making a very special return this Christmas season priced at S$112 per cake.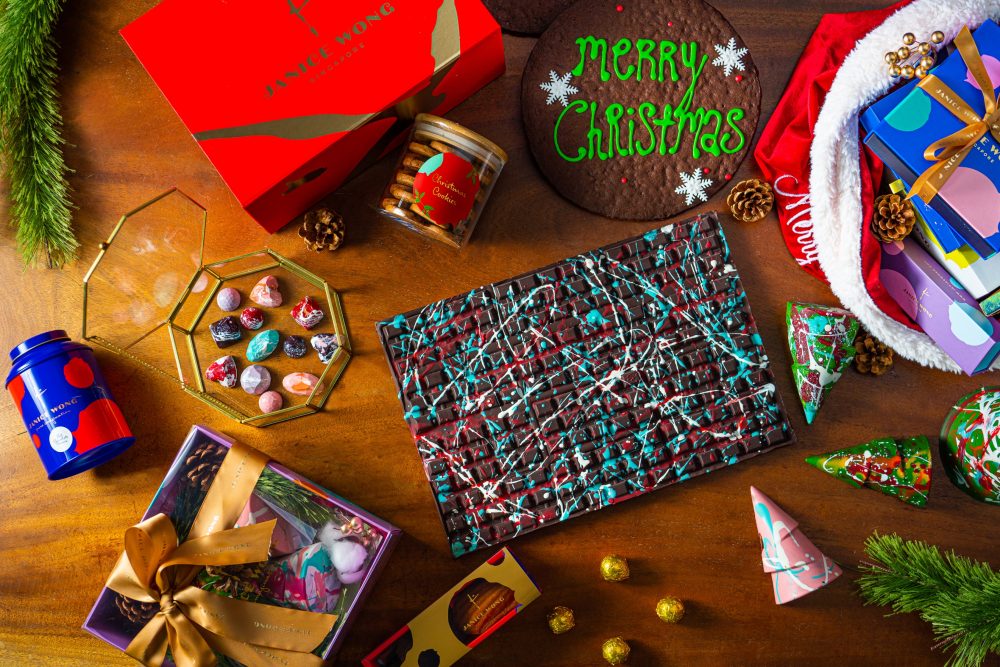 A big year calls for big creations, and with this in mind, Larger than Life presents the 1.4kg XXL Single Origin Dark Chocolate Bar (S$119). Wrapped in a chocolate Bar Box, the indulgent bar is a Bean to bar single origin chocolate from Columbia and even comes with a hammer and is perfect for sharing amongst family and friends. The XXL Cookie Set (S$78) sees oversized cookies with the option to add a customisable message to spread the festive cheer with loved ones.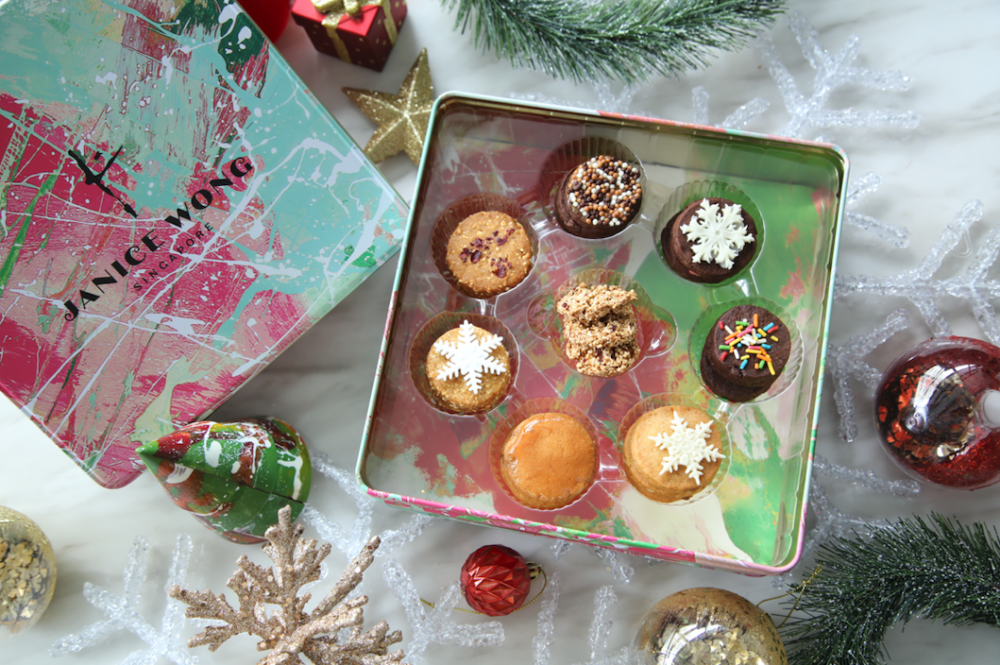 Rounding off the collection are the Chocolate Gems Christmas Specials (S$110), an assortment of festive chocolate with flavours including mulled wine, apple pie and peppermint. For traditional Christmas classics, there is also the Assorted Christmas Cookie Tin (S$35), fresh Madeleines sold in boxes of five (S$15), Chocolate Surprise Christmas Tree Praline Truffles (S$75) and classic Christmas Chocolate Bars (S$9.50), which are all available for purchase at online and in-store.
The popular festive hampers from Janice also return for this year's collection. In partnership with Fiore Dorato, The Chocolate Gems Christmas Flower Hamper (S$215) is designed to bring the whole family joy with colourful bite-sized chocolates in a festively floral box. Other hampers include the Baking Hamper Set, the Creative Hamper Set and the Tea Time Hamper Set. All priced at S$50, these are a great way to let loose your Christmas creativity. In a special collaboration series, the Macallan Edition 6 (S$280) comes with a pairing of Chocolate Truffle, which makes it an excellent post-dinner dessert. Available for purchase in-store from 15 November, all hampers can be topped up with a bottle of wine or Champagne for an extra serving of Christmas cheer.