Singapore, 25 November 2020 – Just in time for the festive season, Emperor Champagne introduces new gifting packages and an exclusive selection of bottles available for purchase online, in addition to the popular Emperor Champagne Club. Offering an expertly curated collection with delivery across Singapore and free same-day shipping for orders over S$100, Emperor provides the perfect solution for any entertaining, celebrating and gifting needs. 
One of the most intricate and complicated wines to produce, champagne is created painstakingly in one of the most climatically challenging regions in the world. Purchasing a bottle of quality champagne is more than just buying a beverage for consumption but accepting an invitation to go on a journey back into the faraway sleepy wine-country from which the bottle originally came, complete with a subtle and intuitive sensory experience of the weather, the landscape and the industry involved in its production. The category of champagne is broad and deserves to be explored – which was the inspiration behind Emperor Champagne. 
Singapore's first and only Champagne Club, Emperor has revamped their subscription services with three tiers of membership providing rare and exciting cuvées every month. Each bottle featured is expertly selected to broaden members' knowledge of this enigmatic wine, with custom tasting notes and videos sharing insights on the house and the wine for those who want to delve a bit deeper into the story. Members at all tiers also receive special perks such as tickets to exclusive club events, preferential prices on Emperor events, discounts on annual Champagne Insider tours in France and access to a closed group on Facebook to connect with other champagne fans. 
The entry-level Champagne Lover membership (S$128) provides one bottle of champagne delivered monthly as well as other perks such as two crystal flutes upon signup, a 5% discount and S$10 shipping on all bottles from Emperor Champagne's online selection. The most-popular membership tier, Champagne Connoisseur (S$238) includes two bottles of champagne delivered each month as well as four crystal flutes upon joining, an 8% discount for any online bottle purchases and free shipping. The ultimate indulgence, the Champagne Collector (S$888) level includes three bottles of champagne each month including a highly collectable cuvée, six crystal flutes as a welcome gift, a 10% discount on bottle purchases and free shipping.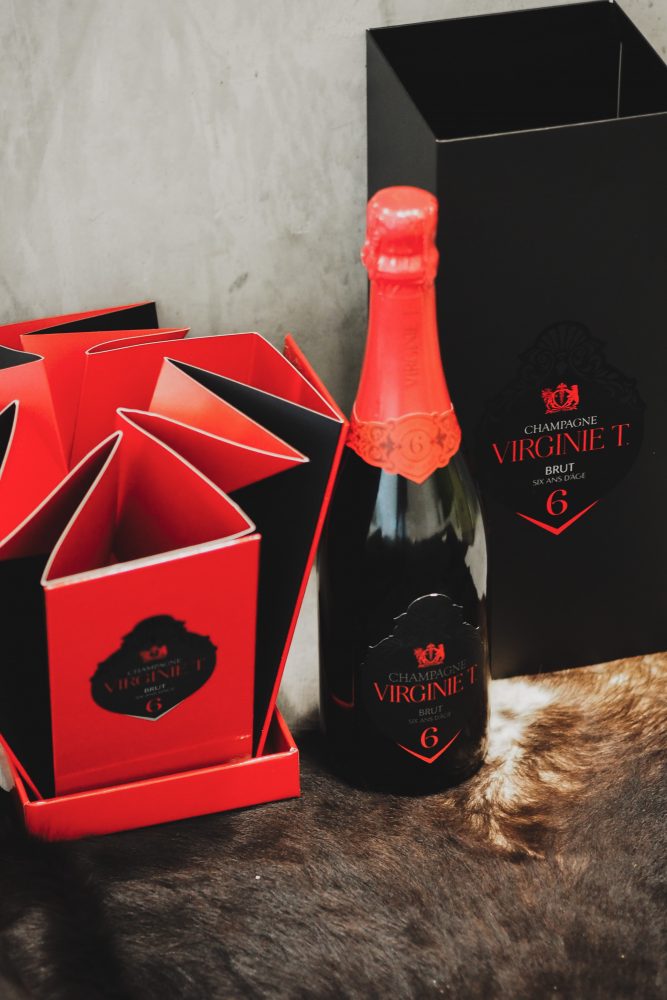 Beyond the subscription services, Emperor also offers a curated selection of gift sets sure to impress any champagne lover. Perfect for impromptu entertaining the Champagne Virginie T Grande Cuvee 6 Ans (S$169) comes packaged within an Origami Gift Box that can double as an ice bucket. Bottle bundles are also available including the Blanc De Blancs (S$309) with three bright and delightful bottles showcasing the full scale of Blanc de Blanc flavours, Classic Celebration (S$259) with three go-to bottles perfect for any occasion, Rosé all Day (S$349) package with three beautiful bottles of romantic and luscious rosé and more.  Level up any bottle purchase with add-ons such as a gift pack featuring two crystal tulips (S$49) or a fresh flower bouquet (S$29).
Ideal for everyday celebrations, Emperor's online shop offers exclusive access to bottles usually reserved by top-rated Michelin-starred restaurants, with interesting and artisanal champagnes as well as stand-by favourites for members and non-members alike – including large format bottles from 1.5L Magnums up to a 15L Nebuchadnezzar. A highlight from the collection, Frerejean Frerès Cuvée de l'Empereur Limited Edition Brut (S$69) is a limited-edition champagne made exclusively for Emperor and not available anywhere else in the world. Aged in the cellar for a minimum of five years and an additional year in the bottle, this cuvée celebrates 250 years since Napoleon's birth (1769 – 2019) inspired by the Frerejean family's special relationship with Napoleon as his cannon-makers and suppliers to his army during the 1700s. 
For those newer to the category who want to take their discovery one step further, private tastings are also available for groups up to five guests (subject to change due to social distancing requirements). Available Wednesdays through Saturdays, the tastings offer a two-hour guided experience (S$580) with an introduction to the category, a walkthrough of three different variants and light snacks for a private group. 
For more information or to browse the collection, please visit https://emperorchampagne.com.sg. Follow along on Instagram (https://www.instagram.com/emperor.champagne.asia/) or Facebook (https://www.facebook.com/emperor.champagne.asia) for more updates.