Malaysia has grown past the sachet economy. Unlike consumers in Indonesia and the Philippines, Malaysian consumers have the power buying to purchase consumer goods in larger pack sizes. However, it is interesting to see Sunsilk hair care products being being sold in individual sachet through the traditional trade channel.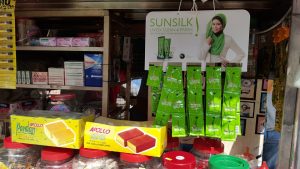 The products are neatly displayed with a special cardboard imprinted with Sunsilk product information suitable for five rows of sachets. The choice of product, the Sunsilk Lively Clean & Fresh, is geared mainly towards Muslim women wearing the headscarf.
The roadside stall is located in Petaling Street or Chinatown in the heart of Kuala Lumpur. There are many budget hotels in the area. The 6ml sachet is aimed at tourists who are not willing to spend more for shampoo.
The special display for Sunsilk shampoo in sachet probably indicates Unilever is looking at expanding the sachet strategy in Malaysia to encourage trial and to reach out to price-sensitive consumers.