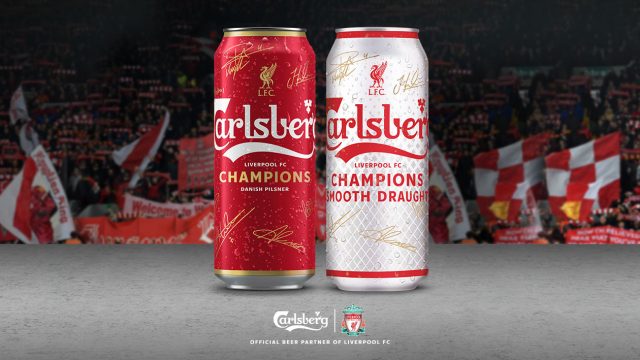 Limited-edition run of Carlsberg Danish Pilsner and Carlsberg Smooth Draught sees cans and bottles now dressed in Liverpool FC's iconic red
SHAH ALAM, 23 July 2020 – A historic moment, a long-awaited achievement – words can hardly describe the euphoria that fans throughout the world felt when Liverpool FC finally lifted the Premier League trophy for the first time since the Premier League was formed in 1992, after a nail-biting match against Chelsea FC early this morning which saw The Reds beating Chelsea 5-3 for the final match of the season in their hallowed grounds of Anfield.
This coincided with another long-anticipated moment for local fans of football and Probably the Best Beer in the World. As an extraordinary tribute to the new champions of England, Carlsberg Malaysia is celebrating Liverpool FC's Premier League trophy lifting by launching a limited-edition 'Champions' packaging across all its Carlsberg Danish Pilsner cans and bottles, switching its iconic green colour to Liverpool FC's equally iconic red!
The once-in-a-lifetime Champions packaging features Liverpool FC's crest, name, and 13 personal signatures of manager Jurgen Klopp, captain Jordan Henderson, vice-captain James Milner, and players Alex Oxlade Chamberlain, Roberto Firmino, Dejan Lovren, Fabinho, Virgil Van Dijk, Alisson, Andy Robertson, Joel Matip, Adam Lallana, and Gini Wijnaldum.
Malaysia is one of more than 20 Carlsberg markets celebrating Liverpool FC's new champion status with the limited-edition look. Exclusively for Malaysia, Carlsberg Smooth Draught – Probably the Smoothest Beer in the World – will also be dressed in the Champions packaging with a mirrored red, white and silver look, complementing the all-red Carlsberg Danish Pilsner Champions packaging as a collectible set.
Stefano Clini, Managing Director of Carlsberg Malaysia, said, "Since Carlsberg's global announcement of the Champions packaging, we've been inundated with inquiries and requests about its availability in Malaysia. We're glad to announce that the long-wait is finally over – both for the trophy and our special-edition Carlsberg beers – and that we're going all out and painting the town red with a limited run of red Carlsberg cans and bottles created especially to celebrate Liverpool's iconic Premier League win."
Clini added, "Our partnership with Liverpool stretches all the way back to 1992 and is the longest standing in league history. Just like our global heritage, the passion evident in Anfield echoes the loyalty of our fans and our supporters who have supported our winning drive and Probably the Best Beer in World that 'Just Keeps Getting Better'. Nearly 30 years on, we raise a glass to the fans, our consumers, trade partners, supporters, and the newly crowned Premier League champions. You'll never walk alone!"
As an added celebratory gesture, Carlsberg Malaysia is offering an additional 100 Red Champions Kits – a virtual Red Keg consumers can purchase for RM500 that comes with two limited-edition Liverpool FC Carlsberg glasses and 100 Carlsberg beers they can redeem and share at participating bars, restaurants and bistros nationwide together with friends and fellow supporters of The Reds. The previous run of 100, offered when Liverpool set an unassailable lead towards the championship, sold out within two weeks.
The limited-edition packaging for Carlsberg Danish Pilsner and Carlsberg Smooth Draught will be available in 320ml and 500ml cans, as well as both small and large bottles. Fans can expect the limited-edition cans and bottles to be on shelves and at their favourite outlets by August.
Carlsberg will be announcing more consumer promotions in August in conjunction with the Champions can and bottles including the chance to win exclusive Champions box sets and signed Liverpool FC jerseys!
For more details, visit the Carlsberg MY Facebook page at www.facebook.com/CarlsbergMY or
www.probablythebest.com.my