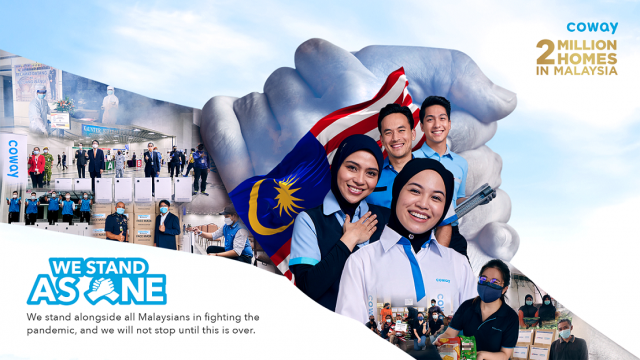 The new campaign aims to spread the message of hope and resilience during these challenging times
KUALA LUMPUR, 27 September 2021 – As the country continues its battle against COVID-19, many have been pushing through fatigue and uncertainty to tackle the disruptions brought on by the pandemic. In this spirit, Coway Malaysia pledges to stand alongside Malaysians — from healthcare personnel to everyday heroes — in this challenging period with its new 'We Stand As One' campaign.
The campaign seeks to highlight the power of coming together as a community to overcome the challenges during these trying times for a better Malaysia. The pandemic continues to have significant impacts on the well-being, health and financial stress of an individual. Following this, the campaign builds upon Coway's ongoing corporate social responsibility (CSR) efforts, demonstrating its commitment to the health and well-being of the country and every Malaysian.
To kick-off the 'We Stand As One' campaign and its uplifting message, Coway will be releasing a new television commercial which not only showcases the tireless work of frontliners, but also the spirit of togetherness to support the community around the country in overcoming and fighting this current challenge.
"Teamwork and taking action to make a positive impact are core values of our 'Cowayian' spirit. No matter how tough the situation is, we will have the strength to face it when we work together as one. We believe that we have the responsibility to stand alongside Malaysians in facing this current crisis, and help the country win this fight against COVID-19 — we will not stop until this is over," said Kyle Choi Ki Ryong, Managing Director of Coway Malaysia.
Coway was one of the first multinational corporations to leap into action at the start of the pandemic last year. Among the efforts made include a cash donation of RM300,000 to the Ministry of Health's (MOH) COVID-19 fund; hundreds of air purifiers delivered to over 38 public hospitals designated to treat COVID-19 patients; and 100,000 face masks contributed to Polis Diraja Malaysia (PDRM). Thousands of "Stay Safe" kits comprising hand sanitisers and masks were also handed out to GrabFood riders and customers.
Meanwhile for this year, the company sponsored 101 Coway air purifiers to four mega vaccination centres (VACs) in the Klang Valley to help bolster Malaysia's National COVID-19 Immunisation Programme (NIP). In addition to this contribution, Coway also sponsored three air purifiers and three water purifiers to the COVID-19 Assessment Centre (CAC) Bandar Tun Razak in Cheras to provide clean and better air quality in a high-risk area like the assessment centre.
Recognising the importance of hygiene in combating the virus, Coway introduced five new value-added services for its customers last year, which utilise advanced sterilisation methods to boost home hygiene standards. Coway also rolled out disinfection services to the public, with its Health Planners and Homecare Technicians disinfecting public spaces such as schools and residential areas to minimise the spread of COVID-19.
More recently, Coway donated RM400,000 to MERCY Malaysia's Food Aid Programme, benefiting 3,600 needy families from vulnerable communities. In continuing its collaboration with MERCY Malaysia, Coway also contributed six units of air purifiers to the non-profit's Mental Health Psychosocial Support initiative. The air purifiers will be placed in a "well-being" space set up at Hospital Tengku Ampuan Rahimah (HTAR), Klang and Hospital Kuala Lumpur (HKL), which serve to help ease the burnout faced by healthcare workers.
Choi added, "True to our vision of being the Best Life Solution company, we believe in creating a better world by changing the lives of our customers, staff, as well as the wider community. The 'We Stand As One' campaign is just one part of our long-term CSR framework in Malaysia, and we plan to continue introducing even more far-reaching initiatives to strengthen the health of the nation as a whole."
To watch the heart-warming 'We Stand As One' video and to find out more about this uplifting campaign, go to www.youtube.com/CowayMalaysiaOfficial or www.coway.com.my/westandasone