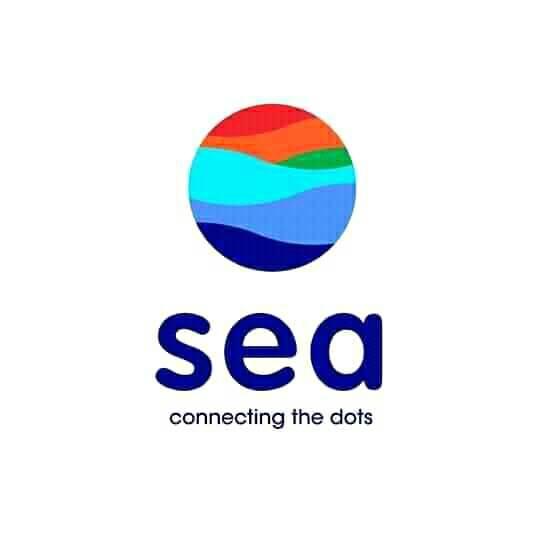 ● 64% of respondents have digitalized 50% or more of their tasks, as have 74% of respondents who areMSME owners, in one of the largest youth surveys in ASEAN.
● Advanced digital users tended to be more economically resilient during the pandemic and they are calling for more digitalization, particularly in the finance sector.
● Intergenerational skills transfer, particularly from youths to the older generation, can be key to addressing digital skills gaps in the region. 36% of respondents taught others how to use digital tools during the pandemic.
Singapore, 13 October 2021 – In collaboration with the World Economic Forum (WEF), Sea has launched a special edition of the annual ASEAN youth survey report series, entitled ASEAN Digital Generation Report 2021. It examined the impact of the pandemic on personal income, savings, and the role of digitalization in the region's economic recovery. The survey, which invited participation from close to 86,000 respondents, also flagged the gaps needed to build a more inclusive and sustainable economy, namely: access to technology, digital skills training for all generations, and measures to enhance online trust and security.
While MSME owners reported a decline in income during the pandemic, the survey's findings confirm e-commerce's role as the key driver of growth in ASEAN. The wholesale and retail trade sector had the highest proportion of people starting new businesses (50%), while the logistics sector had the highest share of people finding new jobs (36%).
Findings revealed that a majority of respondents have adapted to the challenges of the pandemic through significant digital adoption: Across ASEAN, 64% of respondents have digitalized 50% or more of their tasks, as have 74% of respondents who are MSME owners. Respondents who reported greater levels of digitalization of their work and business indicated lower levels of income decline. Similarly, business owners with an online presence were more likely to report an increase in savings (24%) and income (28%) compared to those without one (18%).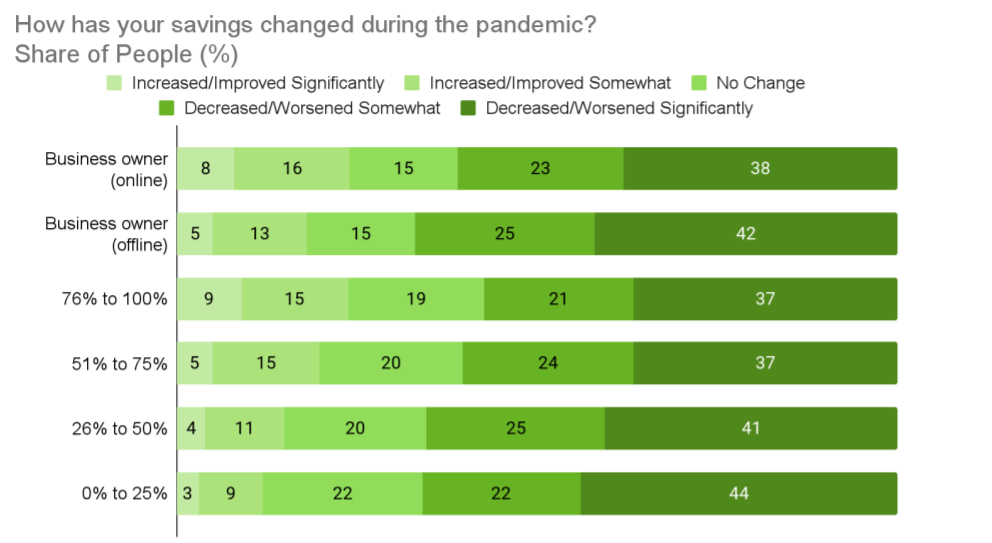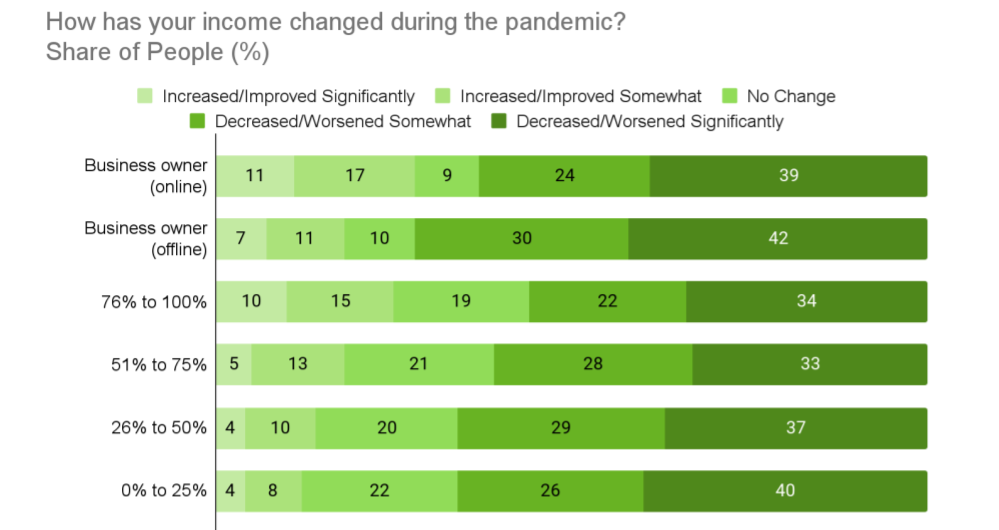 However, the benefits of digitalization were observed to be unevenly spread across the region. Those who are "less digitalized" found pursuing further digital adoption less appealing. As in 2020, respondents continued to point to expensive or poor internet quality or digital services as the top barriers to digital adoption. While less digitalized respondents identified digital skills as a key additional obstacle, more digitalized respondents highlighted factors such as trust and security concerns instead.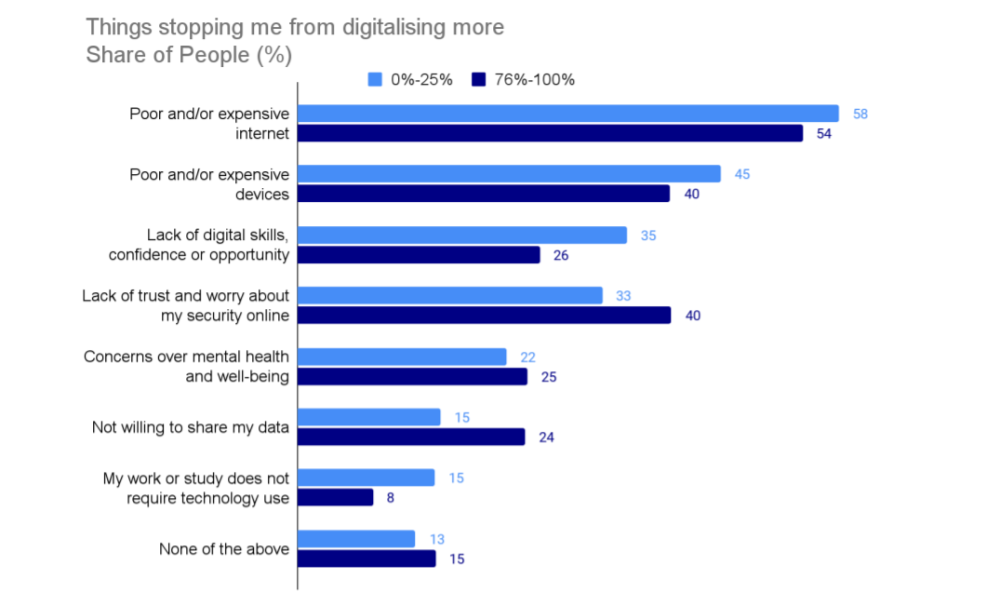 The identified obstacles were consistent across respondents from all six countries surveyed. This has reinforced the need for multi-stakeholder and regional joint actions to unlock the full potential of ASEAN in the digital age and narrow these gaps.
"Through this annual survey, we wanted to understand the views, priorities and concerns of the digital users in ASEAN and gain statistical insights that will help inform and shape relevant regional policy," said Joo-Ok Lee, Head of the Regional Agenda, Asia Pacific, World Economic Forum. "The survey showed improving the quality and affordability of ASEAN digital infrastructure, equipping ASEAN workforce with appropriate skills and enhancing people's trust in the digital environment are crucial to bring ASEAN over the tipping point for inclusive and sustainable digital transformation," he added.
"One of the key findings was that digitalization has a 'flywheel' effect wherein users who had first experienced the benefits of technology were more eager to deepen their levels of digitalization. On that note, it is critical for the public and private sectors to work even more closely to minimize any friction and barriers which may prevent the positive digitalization momentum from taking place. Through this, digitalization can enable post-pandemic recovery in an inclusive and sustainable way," said Santitarn Sathirathai, Group Chief Economist of Sea.
Since 2017, this is an annual report conducted and analysed in partnership with the World Economic Forum (WEF). Between July and August 2021, the survey polled users from six ASEAN countries – Indonesia, Malaysia, the Philippines, Singapore, Thailand, and Vietnam. Some 77% of respondents were youths aged between 16 and 35, 56% of them being female and 10% are business owners.
This year's edition continues to monitor the impact of the pandemic on respondents, explores how the ongoing digitalization has benefited their life and society in the real economy, what stands in their way of further digitalization and maximization of such benefits, and how to tackle the identified obstacles.
For enquiries, please contact [email protected]
About Sea Limited
Sea Limited (NYSE: SE) is a leading global consumer internet company founded in Singapore in 2009. Our mission is to better the lives of consumers and small businesses with technology. We operate three core businesses across digital entertainment, e-commerce, as well as digital payments and financial services, known as Garena, Shopee, and SeaMoney, respectively. Garena is a leading global online games developer and publisher. Shopee is the largest pan-regional e-commerce platform in Southeast Asia and Taiwan. SeaMoney is a leading digital payments and financial services provider in Southeast Asia.