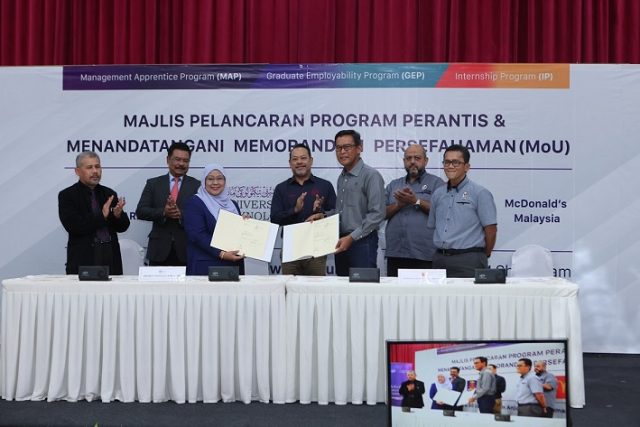 SHAH ALAM, 10 JUNE 2022 – Universiti Teknologi MARA (UiTM) and McDonald's Malaysia today inked a Memorandum of Understanding (MoU) marking a collaborative initiative to increase graduate employability via McDonald's Apprentice Programme. YB Senator Dato' Dr Ahmad Masrizal Muhammad, Deputy Minister of Higher Education officiated and witnessed the signing ceremony held at Dewan Anjung Seri Budiman, UiTM Shah Alam today.
The MoU was signed by UiTM Vice-Chancellor, YBhg. Prof. Datuk Ts. Dr Hajah Roziah Mohd Janor and Deputy Vice-Chancellor [Office of Industry, Community and Alumni Network (ICAN)], Prof. Dr Mohamad Hariri Hj. Abdullah, while McDonald's Malaysia was represented by Managing Director and Local Operating Partner, YBhg. Dato' Azmir Jaafar, along with Senior Director of Legal and Franchising, Encik Hilmy Sulaiman.
UiTM and McDonald's are collaborating in three programmes – the Management Apprentice Programme (MAP), Graduate Employability Programme (GEP), and Internship Programme (IP). The Management Apprentice Programme, in particular, aims to provide career opportunities to students from various backgrounds, including B40 students and individuals with special needs. This is to strengthen graduate employability while also providing students with fulfilling career paths.
UiTM, as the biggest institution of higher education in Malaysia, always looks forward to collaborating and taking proactive measures with industry players in maximizing initiatives for graduate employability. According to Prof. Datuk Roziah, "The McDonald's Apprentice Programme is in line with the latest UiTM agenda to strengthen graduate employability initiatives matching the Ministry of Higher Education Graduate Employability Strategic Plan 2021-2025, with its vision of producing holistic and balanced graduates with global employability values".
To boost youth and graduate employability, McDonald's has several employment programmes such as the McDonald's Vocational Apprenticeship Programme under the government's National Dual Training System (SLDN) besides the MAP, GEP and IP. As of 2021, McDonald's Malaysia has trained more than 900 college and university graduates in MAP, GEP and IP, who are now employed in the hospitality industry.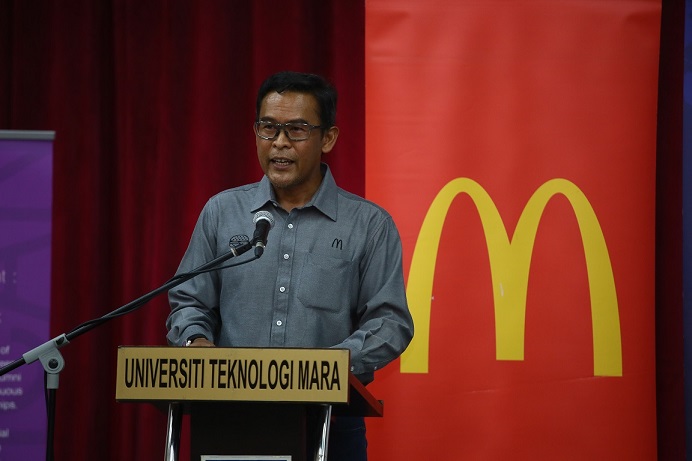 "McDonald's Malaysia strives to be a corporate citizen that supports and facilitates the country's national agenda in youth development. One of McDonald's key focuses this year is youth employment, and our target is to provide 50,000 new jobs by 2026. As we expand our footprint in the country, we are also opening up new opportunities for young talent. We are passionate in growing and building our workforce, as our people are the heart and soul of the brand," said Dato' Azmir Jaafar. He added that McDonald's Malaysia aims to invest RM300 million in training and development programmes.
The Deputy Minister of Higher Education in his speech supported the initiative executed by UiTM and McDonald's Malaysia. According to the Deputy Minister, "The holistic criteria for graduates is crucial so that we can produce graduates that comply with the current landscape and method of employment. Thus, they can be regarded as professional graduates capable of developing knowledge, self, community and country".
The event, which drew around 300 people, was also graced by the presence of 20 orphans from Cahaya Kasih Bestari Care Centre / Rumah Amal Bestari Shah Alam in the 'Raikan Senyuman' community programme, a collaboration between UiTM and Ronald McDonald House Charities (RMHC) held concurrently today.