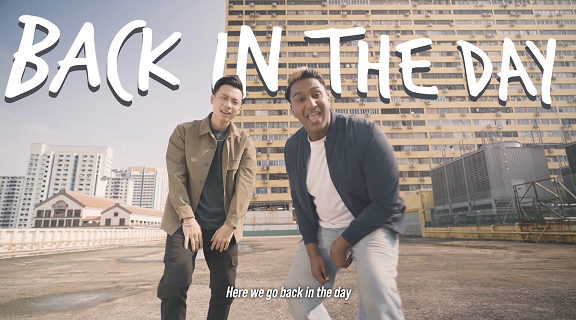 Singapore, 1 July 2022 – "Back In The Day", a brand new song and music video commemorating 55 years of National Service (NS55), launches today. The rousing and upbeat number celebrates the collective experience of national servicemen across generations and their contributions to Singapore's defence and security. The music video for "Back In The Day" is now available at (http://go.gov.sg/ns55-themesong).
 "Back In The Day" recognises National Service (NS) as an important boys-to-men rite-of-passage that every male Singaporean goes through. The song hopes to be the catalyst for national servicemen to reminisce their NS experience and memories of camaraderie through music. Performed by national servicemen from the Music & Drama Company (MDC) – Lance Corporal (LCP)(NS) Kevin Brendan and rap artist Axel Brizzy [Corporal (CPL)(NS) Axel Teoh] – the catchy song captures references about the good old days of serving NS through the generations. 
The song was produced and arranged by award-winning song writer Don Richmond, who also recorded, mixed and mastered the song. The lyrics are by Richmond and homegrown hip-hop artist ShiGGa Shay, who also served his full-time NS with MDC. "Once the idea of 'Back In The Day' was conceived, I knew very quickly off the bat that I needed a rap element as it had a rhythmical structure that almost resembled marching songs. So, I engaged ShiGGa Shay to come in and hang out and see if we could come up with some ideas for the lyrics of the rap section. We spent a few hours together and soon the creative juices were flowing really quickly. Before we knew it, we had the song in place," said Richmond.
Richmond found it a challenge to write the song because there were just too many rich NS stories through the generations to tell. But the common factor was how national servicemen always made reference to "back in the day", each one remembering a season in their lives that they would never forget. Richmond decided to use that as a common thread as "no matter how different the NS experience was, or how different our lives became after NS, we would always have that common 'back in the day'." He served his full-time NS in the Field Defence Squadron with the Republic of Singapore Air Force (RSAF).
Since the introduction of NS, generations of national servicemen have served with unwavering dedication, pride and strength to keep Singapore safe and strong. While their dedication remains a constant, the global security landscape is constantly changing, demanding innovation and new capabilities in our defence. Richmond's song reflects these changes and the support of families, employers and the public for our national servicemen to serve with pride and with peace of mind.