Shah Alam, August 25, 2022 – In Malaysia, baked beans are commonly associated with the American-style big breakfast or full English breakfast, paired with a generous portion of eggs, sausage, beef bacon and mushrooms. However, baked beans can actually be consumed in so many delicious ways that go beyond breakfast.
Ayam Brand™ has curated a series of non-breakfast baked beans recipes to introduce the next generation of consumers to the nutritional value, versatility, convenience and deliciousness of these protein and fiber-packed beans.
Ayam Brand™ Baked Beans use specially selected high quality, large northern Haricot beans for the taste and texture. Prepared to a well-tested recipe, it is free from preservatives and MSG, as well as low in sodium and sugar. Ready to eat straight from the can, it does away with the long soak and cook time for homemade bean dishes.
Why baked beans, though?
Baked beans are high in plant protein and in fiber, making them an ideal affordable protein source for vegetarians[1], and non-vegetarians alike. The protein in baked beans helps with muscle growth, increasing strength, recovery, and repair after a workout. Due to the high protein content, baked beans could be a perfect alternative to meat for vegetarians. The high fiber content in baked beans helps to slow down the absorption of blood sugar, provides a feeling of satiety and gives a steady stream of energy throughout the day[2].
They also contain iron, lycopene and folate[3]. Baked beans in tomato sauce are a rich source of iron. Iron deficiency may lead to feeling tired, lack of focus and low energy levels and in severe cases could result in anemia. It is rich in lycopene – an antioxidant extracted from the tomato. Lycopene can reduce cell damage through its antioxidant benefits.
For women planning their pregnancy, adding baked beans to their diet three months before conception can add folate which helps to naturally increase vitamin B levels.  Folate has been shown to reduce the probability of neural tube defects in babies. Baked beans are virtually free of saturated fat – a delicious way of reducing the risk of heart disease.
Clearly, adding baked beans to your diet can do so much good!
Try these recipes starring Ayam Brand™ Baked Beans to go beyond breakfast!
Sardine Baked Beans with Lempeng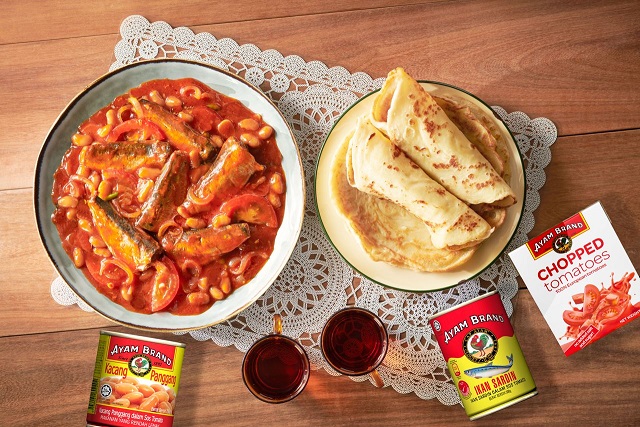 Lempeng is the popular Malaysian pancake that works as an anytime meal or snack. Pair it with this quick and easy, piquant sardine and baked beans curry for a protein packed meal.
Heat oil in a pan, add chopped onion, minced garlic and if you like it spicy, add some finely sliced green chilies into the pan. Sauté until fragrant. Stir in a pack of Ayam Brand™ Chopped Tomatoes and some chili paste, cook a while on low heat. Add in the contents of one can of Ayam Brand™ Sardines in Tomato Sauce and one can of Ayam Brand™ Baked Beans. Allow to heat through, stirring occasionally until well combined. Add salt and pepper to taste.
Prep time: 10 minutes, cook time: 15 minutes, serves: 4 pax
Mini Jacket Potatoes with Baked Beans (Suitable for Vegetarians)
We love the jacket potatoes at steakhouses and fancy restaurants, but we don't love the prices! Make your own jacket potatoes at home. Surprisingly easy to prepare, although they do take some time to bake.
Heat your oven to 180°C. Wash 200g of baby potatoes (regular potatoes will work, remember to give them a good scrub and more time in the oven). Pat dry and prick all over with a fork. Coat with olive oil and toss with salt. Arrange the potatoes on a baking sheet in a single layer and bake for 40 minutes. Cool for 10 minutes. Cut a tiny cross into the top of each potato, then lightly pinch the base to create an opening.
Top each potato with a teaspoon of Ayam Brand™ Baked Beans, a dash of chili flakes and a sprinkling of chopped spring onion. To add tanginess, finish with a squeeze of lemon juice. Serve immediately.
Prep time: 10 minutes, cook time: 50 minutes, serves: 4 pax
Spaghetti with Baked Beans Sauce (Suitable for Vegetarians)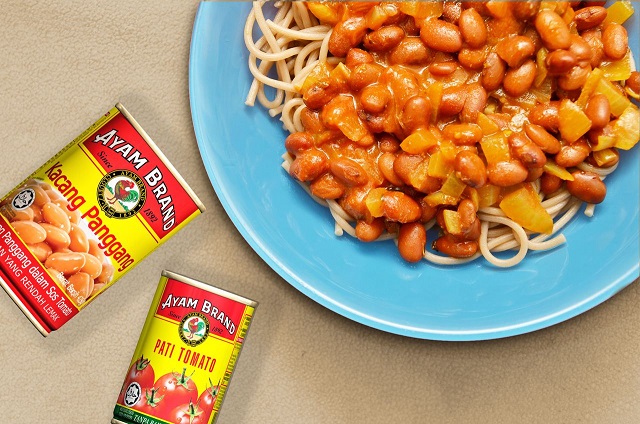 Here's an easy dinner or lunch pasta meal using baked beans instead of ready-made pasta sauce.
 Heat some oil in a pan. Add minced garlic and onion, fry until fragrant. Add half a can of Ayam Brand™ Tomato Puree and ground pepper, stirring for two minutes. Next add two cans of Ayam Brand™ Baked Beans, heat through and stir until well combined. Use an immersion blender to blend into a paste. No immersion blender? Use the back of a ladle to mash or pour the sauce into a blender to whizz.
While cooking the sauce, prepare the pasta according to the instruction on the pack. Reserve one cup of pasta water for the sauce.
Add the cooked pasta into the blended sauce. Combine well, adding some pasta water until the sauce reaches the consistency that you prefer.
To serve, garnish with chopped parsley. You may replace Ayam Brand™ Baked Beans with Ayam Brand™ Baked Beans Cheese if your kids prefer a creamier texture and cheesier tasting pasta.
Prep time: 10 minutes, cook time: 15 minutes, serves: 4 pax
Baked Beans Patties (Suitable for Vegetarians)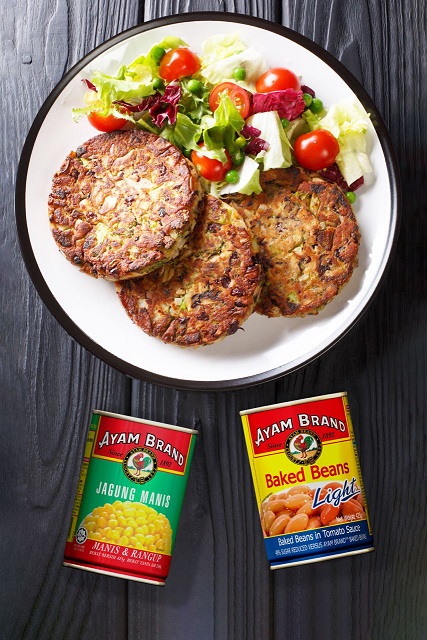 This dish takes it inspiration from South Indian vadai, and Middle Eastern falafel. Turn it into a sandwich or wrap, akin to a falafel sandwich, serve as a side dish to any main meal or have it as a snack.
Stir-fry finely chopped carrots, green chilies, and Ayam Brand™ Whole Kernel Corn with salt until softened. In a big bowl, add in softened carrots, corn, green chilies and drained Ayam Brand™ Baked Beans Light which has 48% less sugar. Then, mash all the ingredients together completely. Add some corn flour to this mixture to create a workable dough. Add some finely minced ginger, onion and coriander leaves to the mixture and mix well using your fingers. Season with salt and chili powder to taste.
Shape into medium-sized patties. Coat patties in breadcrumbs and arrange on a plate. Heat oil in a shallow frying pan. Fry on one side until crispy, then flip and crisp up the other side. Fry in batches, and do not overcrowd the pan.
Prep time: 10 minutes, cook time: 20 minutes, serves: 4 pax
Ayam Brand™ products are widely available from Aeon Big, Giant, Cold Storage, Jaya Grocer, Village Grocer, Bens, Hero, Mydin, TF Value, The Store/Pacific, Econsave, Matahari or visit the Ayam Brand Official stores on Shopee and Lazada.
[1] Ayam Brand™ Baked Beans include onion in the sauce
[2] https://www.rd.com/health/conditions/health-benefits-of-beans/
[3] https://www.grownups.co.nz/life/food-wine-beverages/baked-beans/