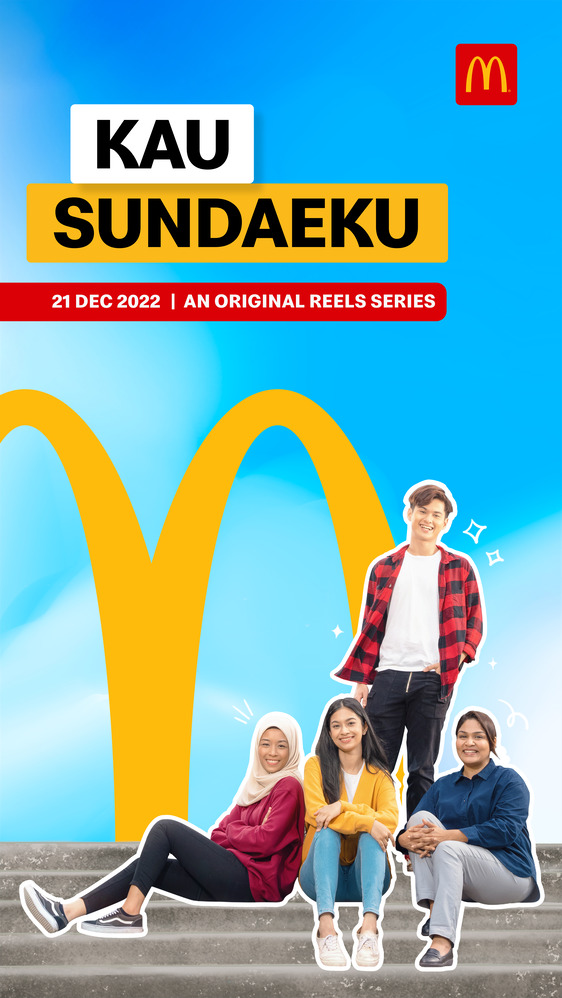 The company is connecting with youths via social media in a manner that resonates with the younger generation
SELANGOR, 22 DECEMBER 2022 – McDonald's Malaysia is interacting with youths via social media platforms to introduce a wide range of career options for the latter to explore with the company. Adopting an innovative and engaging approach, Malaysia's leading quick service restaurant operator is releasing an original drama series on Instagram Reels to capture the attention of youths who are actively seeking employment.
According to Melati Abdul Hai, Vice President and Chief Marketing Officer of McDonald's Malaysia, McDonald's has decided to immerse in the youths' "routine" and find new ways to express the McDonald's culture, values and myriad of opportunities available in the company. Knowing that social media is a popular medium, the company is driving interest and encouraging applications with the release of a nine-episode mini drama series entitled "Kau Sundaeku".
"We are always looking for ways to constantly be in touch with the youth of our nation. The light-hearted, fun-to-watch drama series on Instagram is undoubtedly new and refreshing. We want to be able to better connect with the younger generation to showcase the exciting career opportunities and pathways that the Mekdi family can offer," added Melati.
Over the years, McDonald's has consistently been recognised as an employer of choice for Malaysians. The latest accolade garnered by McDonald's was the Best of the Best Employer Award 2021 and Best Employer Award 2021 by global HR advisory services provider, Kincentric. Prior to that, McDonald's had also won the Best Employer Award from Aon for five consecutive years from 2014-2018. The company was also recognised as the Best Employer for Women in 2015 and Best Employer for Generation Y in 2013, underlining the core values of diversity and inclusion that McDonald's embraces.
McDonald's invests significantly in various training programmes to prepare youths for a career in the food and beverage industry. An example is the McDonald's Vocational Apprenticeship Programme which is an 18-month industry-oriented training programme that combines 70 percent of practical training in McDonald's restaurants and 30 percent of theoretical lessons in the classroom. This successful programme is a collaboration between McDonald's Malaysia and the Ministry of Human Resources Malaysia (MoHR) under the National Dual Training System (NDTS) introduced by the Ministry. Since 2018, McDonald's Vocational Apprenticeship Programme has enabled more than 3,500 youths from various backgrounds to gain experience and employment in the food and beverage industry.
"Our training programmes are targeted at youths to steer them into a positive career trajectory and to help them grow as a contributing member of society. The youths in Malaysia are the future of our country and increasing youth employment will benefit our economy in the long run," said Melati.
As part of McDonald's Vision 2026, the quick service restaurant has committed to invest a total of RM1.35 billion over the next few years to open up to 500 restaurants in Malaysia. With this expansion, the company expects to offer more than 50,000 career opportunities for Malaysians by 2026, including 15,000 new apprentices under the McDonald's Vocational Apprenticeship Programme.
The nine-episode mini drama series entitled "Kau Sundaeku will be released on Instagram Reels on 21 December 2022, with each episode being one-minute long. The slice of life drama series revolves around a restaurant manager and three crew members from diverse backgrounds who find a home and the sense of belonging working at McDonald's. The series features an ensembled cast including Rasyiqah Johan and Zafira Natasya Yong who were Top 10 finalists of the Beauty Pageant show Dewi Remaja, as well as Adam Aliff Tay and Subhasree Uiaramuthu, among others.