Opened on 9 May, the Woodleigh Mall boasts delightful lifestyle offerings to cater to the whole family, such as alfresco dining experiences, exciting new retail concepts, holistic wellness options, and a suite of enrichment offerings, many of which are already open to the public
The mall spans across three floors, and is situated amidst lush green spaces, offering shoppers a unique combination of nature and retail experiences, while being seamlessly connected to the Woodleigh MRT station and upcoming bus interchange, as well as to extensive cycling routes around the Bidadari Estate and future Bidadari Park
A range of sustainability efforts have been incorporated into the design of the mall, enabling it to be a proud recipient of the BCA Green Mark Platinum Award.
Singapore, 12 May 2023 – The Woodleigh Mall, an integrated community and lifestyle hub in the Bidadari Estate, has opened its doors with exciting retail concepts, dining experiences, and edutainment options that are now open to the public. Jointly developed by Cuscaden Peak Investments Private Limited ("Cuscaden Peak Investments") and Kajima Development, shoppers can look forward to a slate of highly anticipated openings in the three-level mall, which offers a rich mix of retail, food and beverage, healthcare, and enrichment tenants all under one roof. As more tenants continue to open in the following weeks, shoppers are warmly welcomed to visit The Woodleigh Mall to enjoy an invigorating new experience amid the surrounding lush green spaces.
Mr. Gerald Yong, Chief Executive Officer, Cuscaden Peak Investments, said: "The Woodleigh Mall brings a refreshing new retail concept to the city fringe urban oasis. The mall will complement and benefit from the development of the Bidadari Estate. We are confident that with our wide tenant mix and beautifully integrated green spaces, the mall will become the heart of the community within the Bidadari Estate and neighbouring districts such as Bartley, Potong Pasir, and Boon Keng, appealing to shoppers from all walks of life. We are also pleased to share that The Woodleigh Mall has achieved 96% committed occupancy – a testament to our tenants' trust in our vision and asset management capabilities."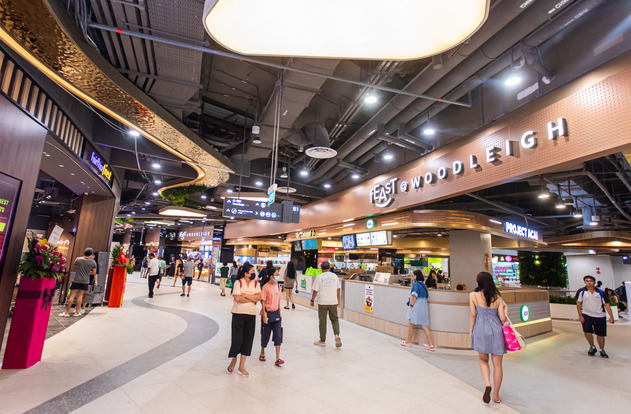 Mr. Shuichi Oishi, Chief Executive Officer, Kajima Development Pte Ltd said: "The future is in people-centric design. Our vision for The Woodleigh Mall was to place people at the heart of the mall's design by conceptualising a space which allows people to appreciate the beauty of the Bidadari Estate. To achieve this vision, we constructed unique features in the mall — such as a viewing deck overlooking the upcoming Bidadari Park and Alkaff Lake, as well as alfresco F&B outlets lining the 700m Heritage Walk — to better integrate our visitors' dining experience with nature, all while incorporating the natural beauty of the Bidadari Estate."
Unique Landscape And Concepts
The Woodleigh Mall is nestled within distinctive and tranquil green spaces in the heart of Bidadari Estate. It is directly connected to the upcoming Bidadari Park – a 10-hectare park with the picturesque Alkaff Lake as its centrepiece which will be ready later part of the year. The park will feature open lawns with over six kilometres of wooded experiential trails – by the 700m Heritage Walk, a "green spine" that will be lined with lush foliage and a delectable selection of cafes and restaurants, such as artisanal brunch experts Tiong Bahru Bakery (#02-47), and purveyors of premium coffee OLLA Specialty Coffee (#01-55), home of the newly-minted 2022 Barista Champion. Renowned craft beer brewery Brewerkz (#02-20/20A), has introduced a restaurant sitting directly above, and will boast a beautiful overlook of the upcoming Alkaff Lake.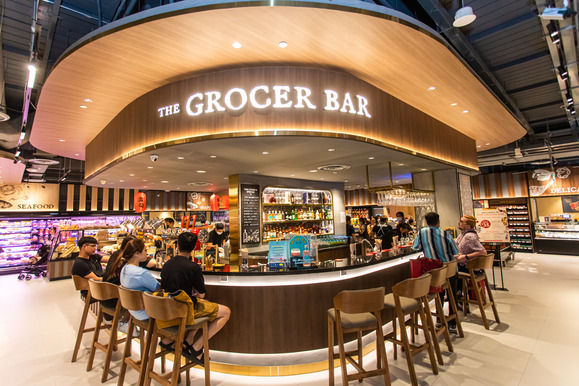 The Woodleigh Mall will feature the largest Pepper Lunch (#01-54) outlet in Singapore, and the world's first award-winning plant-based burger joint VeganBurg (#01-37) has opened its second outlet in Singapore — the first in a shopping mall — showcasing a fresh outfit inspired by its San Francisco roots. The mall's 300-seater food court debuts a fresh concept by Food Republic (#B1-09/10), it is the first outlet in Singapore to offer kids' meal options, alongside a delectable range of highly-rated brands and choices for families and foodies. The industrial, street-style food court features a specially-commissioned wall mural by award-winning, self-taught Singaporean graffiti artist, TraseOne. The mall also houses one of Singapore's very few 24-hour FairPrice Finest (#B1-32/33), where shoppers can look forward to experiencing a range of unique in-store concepts, such as The Grocer Café- which offers freshly baked goods, ready-to-eat bites and brewed coffee, The Grocer Kitchen- where in-store diners can enjoy sumptuous seafood prepared à la minute, such as freshly shucked oysters, as well as The Grocer Bar-where visitors can enjoy a glass of wine, or indulge in an aptly-named cocktail, 'The Woodleigh Club', which is specially concocted for the mall.
Besides indulging in a plethora of gastronomical delights, shoppers can also discover a bevy of retail offerings to meet their every need, including Skechers (#01-18/19/20/21), for stylish activewear, athleisure, and footwear, as well as Bottles & Bottles (#B1-K47), a popular homegrown wine and spirits retailer. The second floor of the mall comprises a broad range of health and wellness options, with trusted names like Parkway MediCentre (#02-25/26/27), Thomson Medical Group (#02-03/05/06/07), and Raffles Medical (#02-08) – which will offer a full suite of healthcare offerings ranging from health screening, family medicine, multi-disciplinary specialists, and urgent care to traditional Chinese medicine.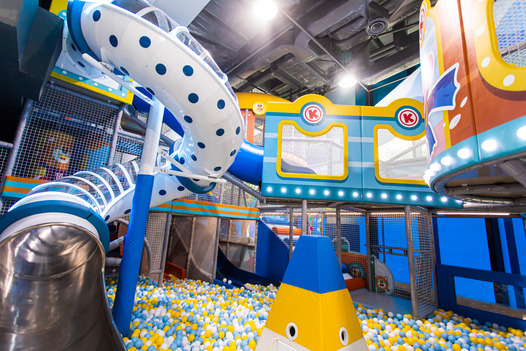 The Woodleigh Mall boasts wholesome family offerings to meet the needs of modern families. Parents can rejoice knowing that the mall is home to numerous established education and enrichment centres, such as The Learning Lab (#02-17/18), Julia Gabriel / Chengzhu Mandarin Centre (#02-45), and Aureus Academy (#01-14/15). Kids will be delighted to have fun family outings to Kiztopia Club (#01-50/51), which will showcase an exciting brand-new underwater-themed concept. In the second half of the year, the mall will witness the opening of the 65,000 sq ft Bidadari Community Club, and a 24,000 sq ft Neighbourhood Police Centre- Woodleigh NPC, within its premises.
Award-Winning Green Shopping Mall
Envisioned to be a vibrant urban oasis, The Woodleigh Mall pays homage to nature and the serene greenery in which it resides in, with a distinctive leaf motif across its exterior, alongside a range of sustainability efforts, such as energy-efficient light fittings, cooling towers using NEWater, and Low Volatile Organic Compounds (VOC) paints, among many other initiatives, which are geared towards realising a sustainable future for the Bidadari Estate.
The Woodleigh Mall's retail experience extends to its surrounding green spaces, with extensive cycling routes around the Bidadari Estate connecting to the mall and the future Bidadari Park. The mall will complement this by offering 400 bicycle parking lots, as well as providing end-of-trip facilities such as lockers and showers, for the community. The mall is also seamlessly connected to the Woodleigh MRT station and upcoming bus interchange.
In recognition of our efforts, The Woodleigh Mall is a proud recipient of the BCA Green Mark Platinum Award, the highest recognition in the Building and Construction Authority's (BCA) framework for the assessment of sustainable design, best practices, and operations.
Opening Promotions at The Woodleigh Mall
In celebration of The Woodleigh Mall's highly anticipated launch, the mall will be organising a wide array of opening promotions. From sustainability initiatives to unbelievably good deals and welcome treats, shoppers are in for a treat at Bidadari's newest hangout.
Shop Sustainability with The Woodleigh Mall
From now to 11 June, in line with The Woodleigh Mall's sustainability efforts, the first 2,000 shoppers who spend $100 (or $120 with FairPrice Finest receipts) will be able to redeem a reusable "pull & roll" foldable shopping bag with a nature-inspired theme.
Fun Arena: Rooms of Play @ the Main Atrium
Exciting activities to commemorate the opening of The Woodleigh Mall will be taking place in the main atrium! From 26 May to 11 June, an Instaworthy Fun Arena with Rooms of Play will be set up at the atrium, and will feature several different exciting game stations located in Instagrammable sections. Simply spend a minimum of $30 at the mall to redeem a pass to play.
Welcome Treats
On 13 – 14 May and  20 – 21 May, The Woodleigh Mall will also be giving away delectable welcome treats from its tenants to shoppers who follow the mall's Facebook and Instagram pages.