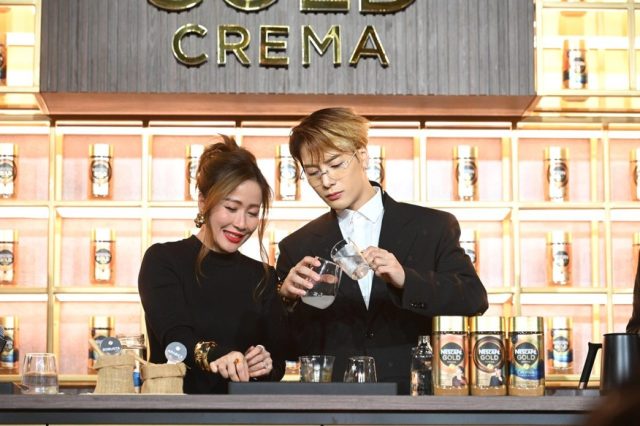 Wednesday 26 July 2023 – NESCAFE GOLD CREMA just held a successful campaign launch for "The Finest Mansion" with the world's first-ever "NESCAFE GOLD CREMA Interactive Cafe." Building on last year's success, the collaboration with brand ambassador Jackson Wang continued for the second consecutive year to bring the unprecedented experience of premium coffee to coffee lovers, people who enjoy drinking out-of-home and in-home coffee, and Jackson Wang's fans, known as Ahgases.
Social media exploded following NESCAFE GOLD CREMA's collaboration with Jackson Wang, Thais' favorite world-class artist, with The Finest Mansion built in front of Central World, where coffee lovers and Ahgases could follow Jackson Wang from his latest commercials in the mansion's studio atmosphere. The NESCAFE GOLD CREMA Interactive Cafe launched at the same time. At the cafe, visitors ordered coffee and chatted with an interactive Jackson Barista at the coffee booth then enjoyed the finest golden powder premium coffee made from a quality Arabica blend meticulously crafted by coffee experts in every process including roasting and grinding to get 10 times finer coffee, plus a velvety layer of crema.
At the launch, Jackson Wang a brand ambassador made a surprise appearance to greet event participants and give them a tour of the various zones in The Finest Mansion, making the hearts of lucky winners and guests flutter. This led to a talk-of-the-town social trend on Twitter immediately during the launch and continued throughout the weekend of the mansion's operation.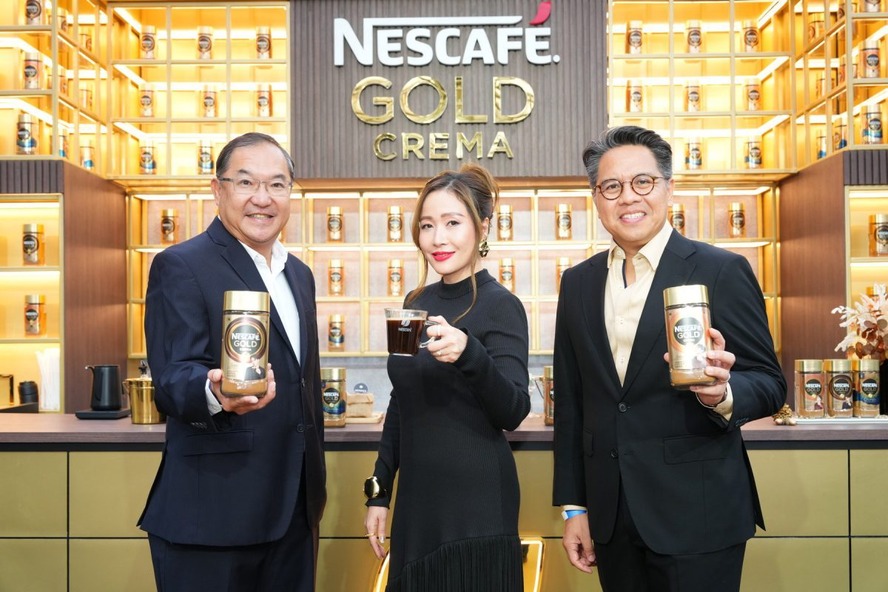 Ms. Sriprapha Chingprasertsuk, Business Manager – Soluble Coffee and Creamer, Nestle (Thai) Ltd., said, "NESCAFE GOLD CREMA's first collaboration with world-class artist Jackson Wang in 2022 was a huge success, helping to reinforce its position as a leader with the highest share in Thailand's premium soluble coffee market. The collaboration expanded our consumer base to the young generation as well as attracting people who enjoy out-of-home coffee to drink more NESCAFE GOLD CREMA."
"At his debut as presenter during last year's 'The Finest Moment with Jackson Wang' event, he showed his spirit on stage by keeping activities going during heavy rain to the delight of his fans. This made the event talk of the town. Also, the brand's commercials gained the highest recognition in the coffee product category in 2022 and recorded a 4.1 social engagement rate during the event followed by being top trending on Twitter for three days."
Sriprapha continued, "This year, we built on our collaboration with Jackson Wang to launch The Finest Mansion, which appears in NESCAFE GOLD CREMA's latest commercials, as the place where Jackson enjoys his finest moments. We also introduced a unique experience at the NESCAFE GOLD CREMA Interactive Cafe, where visitors could order their favorite coffee from Barista Jackson at the coffee booth through an amazing interactive experience. The activity enjoyed overwhelming response from coffee lovers as well as Ahgases. With over 3,500 visitors during the three-day event this past weekend and 3,000 cups of coffee served, it became an online sensation as it trended on Twitter throughout the mansion's operation. We thank everybody who supports NESCAFE GOLD CREMA and will continue offering coffee lovers innovative experiences with premium coffee."
If you missed the opportunity to visit the mansion, you can still enjoy NESCAFE GOLD CREMA fine golden coffee every day in 3 variants including NESCAFE GOLD CREMA INTENSE, NESCAFE GOLD CREMA SMOOTH, NESCAFE GOLD CREMA COLOMBIA ARABICA BLEND by purchasing at leading stores or shopping on line at Lazada and Shopee.