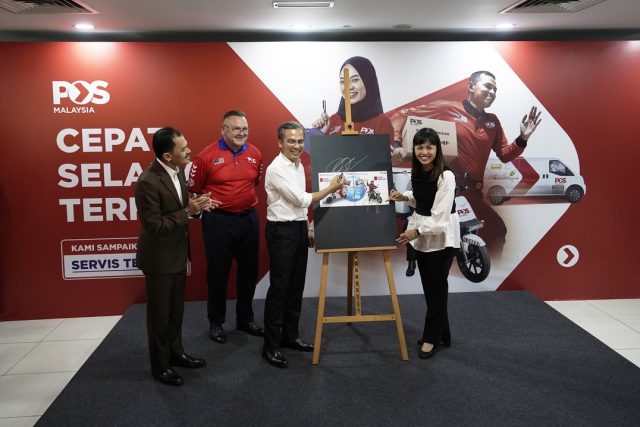 KUALA LUMPUR, 9 October 2023 – Pos Malaysia Berhad ("Pos Malaysia" or "the Group"), the national post and parcel service provider, commemorated World Post Day 2023 today. The celebration is a global event to celebrate the important services provided by the postal sector.
The celebration at the Pos Malaysia headquarters themed "Together for Trust: Collaborating for a Safe and Connected Future", was graced by the presence of YB Fahmi Fadzil, Minister of Communications and Digital, and YB Teo Nie Ching, Deputy Minister of Communications and Digital.
The theme for this year highlights unity and collaboration for a secure and interconnected future.
In his speech, YB Fahmi Fadzil expressed the government's appreciation to Pos Malaysia and all of its employees for several initiatives that have been implemented such as expanding the reach of postal services nationwide through a network of post offices, Pos Mini and "Pick Up Drop Off" at the Digital Economy Centre (PEDi), as well as providing employment opportunities to rural communities in Sabah and Sarawak such as 'Posmen Komuniti' (PK) and 'Wakil Posmen Komuniti' (WPK).
From 9th to 13th October, Pos Malaysia will be rolling out a number of engaging activities at all post offices across the country in conjunction with 'Minggu Bersama Pelanggan' to honour and appreciate its key stakeholders – the amazing Pos Malaysia Wira and the Rakyat.
Among some of the exciting activities in-store for Pos Malaysia customers:
Meet and Greet with Malaysian actor Shaheizy Sam at GPO Shah Alam (9 October, 12pm to 2pm)
Meet and Greet sessions with Malaysian Football League (MFL) players at the following post offices:
➢ GPO Kedah (9 October, 1pm to 2pm)
➢ GPO Perak (10 October, 12pm to 1pm)
➢ GPO Terengganu (11 October, 12pm to 1pm)
➢ GPO Pahang (12 October, 11am to 12pm)
Every day, the top 'spenders' nationwide stand a chance to win a 5gm Gold Wafer from 9th – 13th October
Senang-Menang Contest – Spend a minimum of RM20 for a chance to be in the running to win RM10,000 cash prize
Up to 20% off for domestic parcels and international deliveries
50% off on Setem Ku individual purchases
Free motorcycle road tax with motorcycle insurance renewal
And at Pos Shop:
Buy 1 get 1 free ice cream from 9-13 October from 11am-6pm
Purchase-with-Purchase: RM1 Coffee with every purchase of 1 pau
Spin the Wheel: Spend a minimum of RM15 for a chance to spin the wheel to win Pos Shop shopping vouchers valued up to RM30
Charles Brewer, Group Chief Executive Officer of Pos Malaysia Berhad said "At Pos
Malaysia, we are passionate about building trust to connect lives and businesses for a better tomorrow. Our unrivalled network, providing the greatest reach and delivering to more than 11 million addresses across the nation, stands testament to our commitment to serve all Malaysians no matter where they are. In a recent 2022 Courier Challenge survey conducted by MCMC, Pos Malaysia achieved an impressive score of 96 percent in guaranteed delivery performance. This surpasses the industry average of 78 percent, reflecting Pos Malaysia's dedication to ensuring we deliver the very best service."
Pos Malaysia also collaborated with the Postal Forum to organise the "Apa Khabar?" letter writing competition with over 470 primary and secondary schools via their KESEF Club (Kelab Setem dan Filateli). Selected schools will also be receiving Hope Boxes that contain postcards and hope wishes for the students. This initiative aims to promote the wonderful art of letter writing, connecting Malaysians and encouraging creative writing among the younger generation, with cash prizes to be won by schools with the highest number of entries.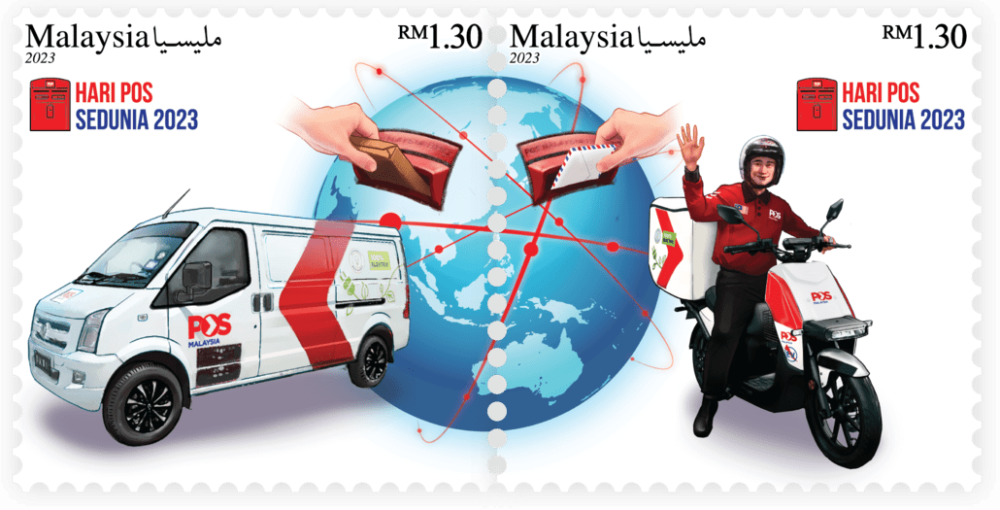 During the event, Pos Malaysia unveiled the design of a unique commemorative stamp for World Post Day, symbolising the enduring legacy of postal services. The event concluded with the flagging off of Pos Malaysia's first fleet of electric vans by YB Ahmad Fahmi Mohamed Fadzil, showcasing the organisation's commitment to a sustainable future.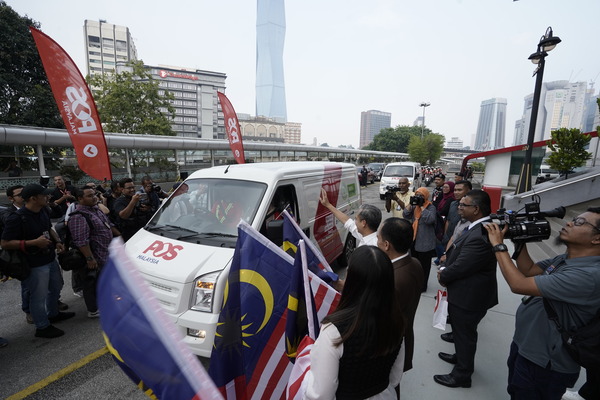 Charles remarked "As we continue with our transformation journey, we are proud of the essential role that we play helping to build trust and connect Malaysians for a better tomorrow. We stand as a 'lighthouse', championing sustainability for both Malaysia and the logistics sector."
"The inauguration of our first electric vans marks a significant step forward towards achieving our goal of making 100% of our deliveries via electric vehicles by 2030 and a key component of our commitment to be net-zero by 2050," he continued.
The electric vans join an already impressive 105 electric bikes in Pos Malaysia's fleet, delivering sustainably the 'smile in the last mile' across the Klang Valley, Johor, Kedah, Penang and Perak, and have already accumulated a staggering travel-distance of 153,363km as at the end of September this year.