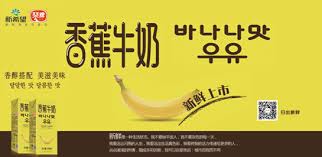 Banana-flavoured milk, South Korea's unofficial national beverage, has seen huge success in China in the past few years. The two key beneficiaries of the banana-flavoured milk craze are flavour companies and dairy firms. 
Why Chinese consumers suddenly developed a taste for the banana flavour?
Chinese consumers are no stranger to eating banana. The fruit is prized for its high nutritional content and is known to cure constipation. Even in freezing Harbin where the average temperature during winter falls to -24 degrees Celsius, it is still possible to buy banana from open air vendors. China is also one of the major producers of banana with output in 2012 rising 3% to 9.3mn tonnes, while demand rose 3% to nearly 10mn tonnes.
The key trigger for the banana craze has to be the Korean wave or hallyu. South Korea's Binggrae, the maker of the famous banana-flavoured milk (
바나나 우유), reported a surge in dairy exports (including banana-flavoured milk) in 2012 to KRW 14bn from KRW 3.9bn in 2011, thanks partly to Chinese sales of banana-flavoured milk. 
The Korean pop culture is very much alive in China. A new generation of Chinese consumers have been brought up consuming Korean popular culture and has developed a rather positive image of Korea. The hallyu phenomenon has a strong spillover effect on cosmetics, food and beverages boosting the profits of South Korean companies such as AmorePacific and Orion, the maker of Choco Pie.
Banana-flavoured milk has the attributes of being fun and energetic, making children, young consumers and females strong captive markets for the product.
Building on the banana flavour is the strong consumption of RTD flavoured milk in China. The country together with India, Thailand, the Philippines and Malaysia consume 47% of the world's flavoured milk, according to Tetra Pak. But China is the largest market consuming 4.2 billion litres in 2012 (25% market share), followed in the second position by the US with 2.3 billion litres (14%), according to Tetra Pak.
The banana-milk flavoured trend seems to be going strong as evidenced by new launches in the flavoured milk category, higher price positioning (premium organic banana-flavoured milk) and flavour extension into ice cream, biscuit, candy and other food categories. The lasting impact of the banana-flavoured milk trend will be the growing acceptance of the banana flavour by consumers in China.