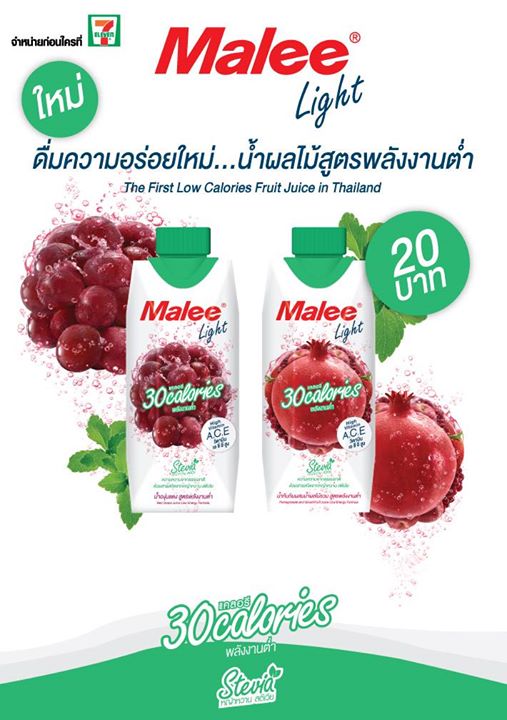 Stevia is a highly popular low-calorie sweetener and can be found in many food products ranging from carbonated soft drinks to cookies. However, stevia application is rare in the fruit juice category in Southeast Asia due to the aftertaste issue.  Stevia does have a signature bitter aftertaste. Not finding ways to deal with the aftertaste is one of the key reasons for the failure of the ANOC range of tea drink and vitamin water in China. Dr. Zhang's All Natural and Zero Calorie Beverage and Foods Company(AN0C) was a joint venture between GLG and China Agriculture and Healthy Foods Company Limited.
Dr Zhang AN0C stevia-sweetened RTD tea
The most recent example of stevia use in Thailand is the Malee Light stevia-sweetened juice with 30 calories. It comes in 200ml and 1,000ml  and three flavours Mandarin Orange Juice with Orange Pulp, Red Grape Juice, Pomegranate mixed fruit juice. This product is clearly targeting at people with healthy lifestyles.
Malee Light does have a higher chance of success as Thai consumers are known to be very conscious of their diet. Beauty drinks with collagen, soy peptide and beta glucan, are extremely popular in Thailand. The obvious target for Malee Light should be young urban women who consume beauty drinks.
In neighbouring Malaysia, stevia-sweteened fruit juice remains a niche product. The distribution of these specialised drinks is usually confined to health centres such as hospitals with diabetes patients in mind. See the June 2014 blog post Exclusive from the 15th Malaysian International Food & Beverage Trade Fair.  Diabetics and obesity are key health issues in Malaysia.
Diabetes national prevalence rate (%)
| | |
| --- | --- |
| Malaysia | 16.61 |
| Singapore | 12.83 |
| China | 9.32 |
| Thailand | 8.45 |
| Japan | 7.60 |
| Indonesia | 5.81 |
The use of stevia in F&B in Thailand coincides with the government approval in August 2014, making it possible to have F&B with stevia as a sweetener. Indonesia is the only country now that does not have the approval. Thanks to Thai consumers preoccupation with beauty and health, stevia makers may find Thailand a potential market to promote the use of natural sweetener.