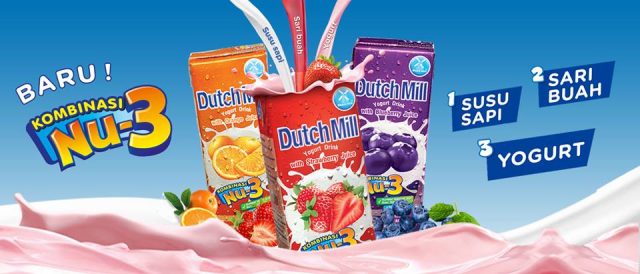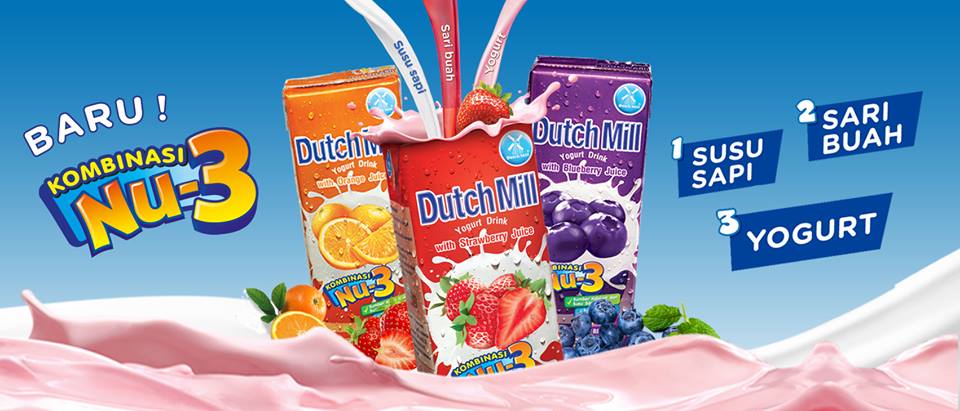 Thailand's Dutch Mill has entered the Indonesian market with the launch of the Dutch Mill yogurt milk drink in September 2016. The 180ml drink comes in three flavours containing 15% blueberry, orange or strawberry juices and 41.34% low-fat milk. The packaging sizes are 90ml and 180ml.
The 180ml Dutch Mill is priced at IDR 5,000 compared with Heavenly Blush 200m (IDR 8,500), Yummy Yofit 180ml (IDR 9,000) and Cimory Yogurt Drink 250ml (IDR 8,500) at Indomaret.
Can be stored in room temperature
The Dutch Mill yoghurt drink can be stored at normal room temperature, which sets it apart from the more expensive yoghurt drinks by Cimory, Yummy and Heavenly Blush. The need for refrigeration could potentially put yoghurt drinks at a disadvantage over other milk-based UHT drink as the chilled chain is still under developed in Indonesia.
To protect the quality, the Dutch Mill yoghurt drink is recommended to be kept refrigerated at a temperature between 2 to 8 degree Celsius.
Nu-3 combination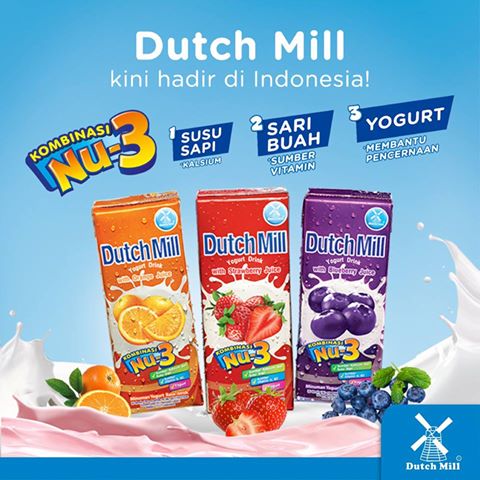 The key unique selling point of the new Dutch Mill yoghurt drink is summed up as Nu-3 or three nutrition from cow's milk (calcium), fruits (vitamin) and yoghurt (digestion).

The advertisement shows the yoghurt drink combines the benefits of all the three ingredients to deliver the goodness to 'superkids.'
PT Nirwana Lestari is the importer of Dutch Mill in Indonesia. In the Philippines, local Monde Nissin, known for its biscuit crackers and instant noodle, is in charge of the marketing and distribution of Dutch Mill in the second most populous country in Southeast Asia.
Dutch Mill Delight with prebiotic fibre
In the Philippines, Dutch Mill has moved beyond UHT yoghurt drink with the new Dutch Mill Delight with probiotic (lactobacillus paracasei) and prebiotic fibre for healthier tummy. The new product is also known the "2nd generation probiotic drink."