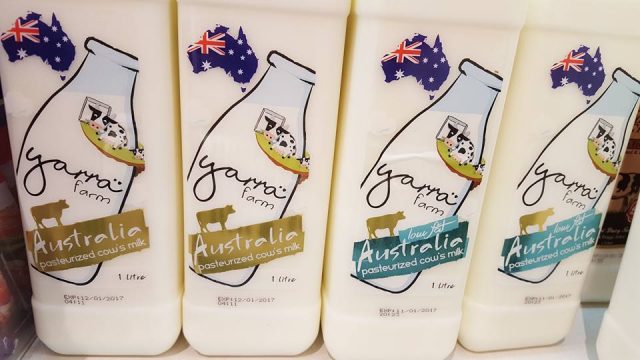 Farm Fresh Milk Sdn Bhd, the company behind the Farm Fresh milk, has added a new product called Yarra Farm Australian Pasteurised Cow's Milk. The milk is made using 100% imported Australian cow's milk with no sugar added and no preservatives. It is available as normal and low fat. The Australian flag is shown prominently on the packaging for provenance purposes.
Identical nutritional value as Farm Fresh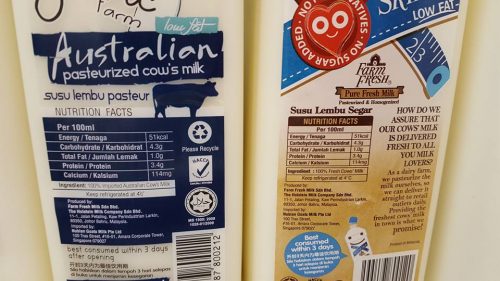 Comparing the existing Farm Fresh Low Fat milk with Yarra Farm Low Fat milk, the only thing that is different is the ingredient. For Yarra Farm, it is 100% imported Australian cow's milk and for Farm Fresh is it 100% fresh cow's milk. The nutrition facts information is the same for both products.
Does it mean that Yarra Farm use fresh Australian cow's milk flown all the way from Australia, while Fresh Farm use milk from the local farm in Malaysia?
Yarra Farm (RM 6.81) is around 5.7% cheaper than Farm Fresh (RM 7.31) for a 1L pack.
Farm Fresh promotional videos

Farm Fresh has recently added a series of videos to show how its milk is produced at its dairy farm in Malaysia. The focus is to demonstrate how fresh is Farm Fresh. It takes only 48 hours from milk collection to delivering it to the shelf.
Here are the 4-part videos:
So far, a call to the company revealed even the staff at Farm Fresh Milk Sdn Bhd was not even aware there is a product called Yarra Farm. It is not sure if this is a repackaging or a new approach by the company to get a different source of milk for its fresh milk products.