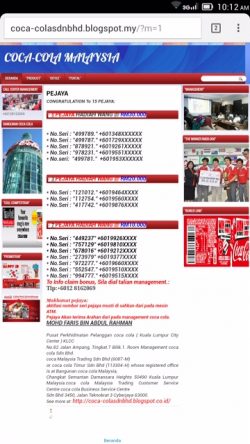 6 January 2017
Coca-Cola Malaysia is advising that it is in no way associated with a fraudulent website claiming to offer cash prizes to Malaysians. Any use of the Coca-Cola name and trademarks used on such 'phishing' websites are used without the Company's permission.
"These phishing websites or scam phone messages are not authorised by nor linked in any way to Coca-Cola. We encourage consumers to be cautious and report any suspicious sites or messages to the authorities," said Coca-Cola Malaysia's Public Affairs and Communications Director, Kadri Taib.
Members of the public who want to verify anything they come across that mentions Coca-Cola can contact our call centre on 1800-88-2653. Operating hours are from 9 a.m. to 12 a.m.
The Coca-Cola Company in Malaysia
In addition to Coca-Cola, one of the world's most valuable brands, the Coca-Cola system in Malaysia manufactures, markets and distributes over 20 products including sparkling beverages (Fanta, Sprite, A&W, Schweppes), zero-calorie sparkling beverages (Coke light, Coke zero), juice drinks (Minute Maid Pulpy), teas (Heaven and Earth) and water (Dasani).
Coca-Cola has invested RM1 billion in Malaysia since 2010, creating more than 800 jobs and touching over 75,000 customers directly with a total reach of over 200,000 customers across Peninsula Malaysia and East Malaysia. Through its programmes and partnerships Coca-Cola Malaysia aims to make a lasting positive difference in the local community.
From promoting active lifestyles through their partnership with the Olympic Council in Malaysia, to working with Raleigh International and Muslim Aid Malaysia to provide access to clean water for more than 20,000 villagers in rural Sabah, and economically empowering women in East Malaysia through the SURI entrepreneurship programme – Coca-Cola is committed to building sustainable communities in Malaysia.