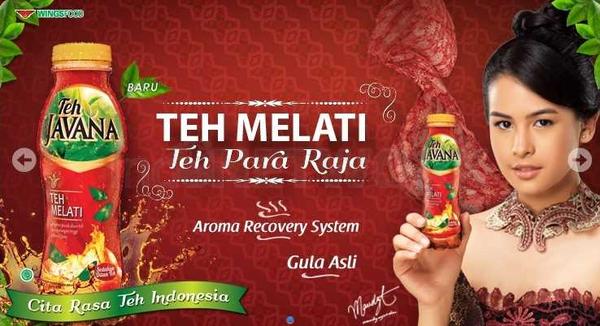 Nielsen has produced some interesting data on RTD tea consumers in Indonesia. According to a report by MIX Marcomm, the marketing communications magazine, Nielsen data shows 75% of consumers drink RTD tea, which is higher than those who drink regular tea (64%). This shows there is potentially a much bigger growth opportunities for RTD tea since the market for regular tea has already become saturated.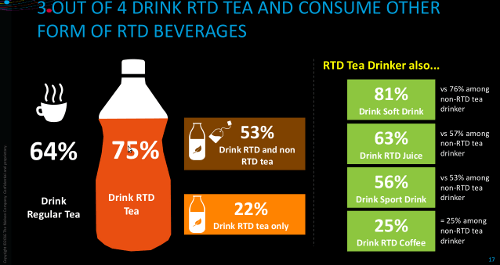 RTD tea consumers do not just drink RTD tea only (22%), over half (53%) also drink RTD tea and non-RTD tea. This shows the RTD tea category has attracted regular tea consumers who are turning to RTD tea for its convenience.
Another set of data shows how marketers can target RTD tea drinkers for other complementary beverages. The top drink that RTD tea drinker also consumed is soft drink (81%), followed by RTD juice (63%) and sport drink (56%). Interestingly, only 25% of RTD tea consumers also drink RTD coffee, which indicates tea drinkers remain loyal to tea.
RTD tea drinkers have higher income levels
Nielsen data also shows among RTD tea consumers, 31% come from the upper class as opposed to 26% form the upper class for non-RTD tea consumers.
RTD tea drinkers have younger profile
Over half (52%) of the RTD tea consumers are from the 10-29 age group as opposed to 56% coming from the 30 and above age group for non-RTD tea drinkers. This makes RTD tea consumers having a young profile and this is supported by the Nielsen data showing 22% of RTD tea consumers are students. For non-RTD tea consumers, 22% are housewives. Blue collars account for the biggest consumers for both categories – RTD tea (22%) and non-RTD tea (24%).
Improved consumption frequency of RTD tea
Consumers are drinking more RTD tea. The Nielsen data shows 65% of consumers drink RTD at least once a month in 2017, up 15 percentage points from 51% in 2007. Within 10 years, the frequency of drinking RTD tea at least once a week has also improved by 6 percentage points to 36% (2017) from 30% (2007).
Pucuk Harum top in adspend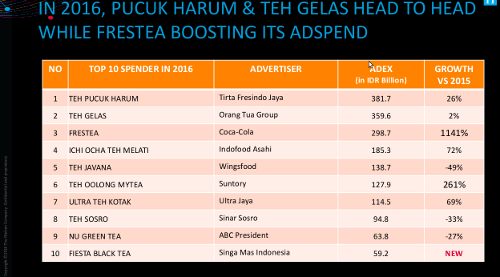 In another article by MIX Marcomm, Pucuk Harum (Tirta Fresindo Jaya) had the top adspend in RTD tea in Indonesia in 2016 citing Nielsen data. Coca-Cola's Frestea posted the strongest ADEX growth in 2016, up 1,141% year-on-year. The overall adspend in the RTD tea category in 2016 stood at IDR 2.69 trillion, up 11% year-on-year. The highest growth in ADEX was in 2011, an increase of 78%.