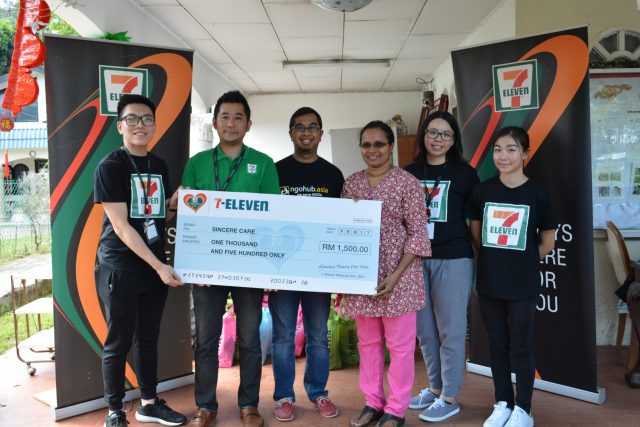 KAJANG – 7-Eleven Malaysia brought upon festive cheer at a charity home in collaboration with its start-up, NGO Hub Asia. The team journeyed to Sincere Care Home in Kajang as part of their CSR initiative recently.
Founded in 2002, Sincere Care Home is a home dedicated to the elderly, mentally ill and less fortunate since its establishment by Mdm. Danapakiyam Arumugam. Till date, the home has taken care of more than 65 of its residents; most that were brought in either by hospitals, abandoned by families or had been living on the streets.  Besides providing food, shelter, and clothing, Sincere Care Home has helped uplift the lives of the community with warmth and loving care.
As part of the project, 7-Eleven contributed financial assistance to support the home's operational expenses and conducted a spring cleaning session with the volunteers to beautify and liven up the environment. The volunteers also handed out goodie bags containing daily necessities and spent time chit-chatting with the residents.
Mdm. Dana, the Chairman of Sincere Care Home said, "Thank you for your help. We are truly grateful for all the contributions we have received." When asked about the home's future, she said, "We have big plans, and we would love to have a building of our own to provide better and more facilities for the residents as well as being able to support more of the less fortunate."
7-Eleven Malaysia General Manager of Marketing, Mr. Ronan Lee said, "During the festive season, the residents would appreciate having company, knowing that there are people looking out for them. We are pleased to be able to make a difference, no matter how small to those that are less fortunate or marginalized by society as at 7-Eleven Malaysia, we always believe in giving back to the society that we operate in as well as striving to Always Be There For You."
For more information, please log on to www.7eleven.com.my or follow 7ElevenMalaysia on Facebook.