Universal Robina Corp (URC), the leading branded snackfood and beverage company in the Philippines, has teamed up with Hong Kong's Vitasoy International Holdings Ltd in a joint venture to promote "high-quality, nutritious and sustainable food and beverage products". The joint venture will provide "sustainable plant-based beverages to the Filipino community," said Vitasoy Group Chief Executive Officer Roberto Guidetti.
Note, there is no mentioning of soya milk in the press release but generally, it is believed the joint venture will include soya milk as Vitasoy is know for its soy milk beverages.
Vitasoy currently has manufacturing operations in Hong Kong, Mainland China, Australia and Singapore, and sells to more than 40 markets globally.
Thailand's Vitamilk is currently number 1 in the Philippines

Thailand's Vitamilk has the biggest share of the soy milk drink market in the Philippines. The soy milk drink is produced by Green Spot and is exclusively distributed by Asia Brewery since 2011. Asia Brewery is a unit of LT Group.
According to LT Group's 2015 annual report, Vitamilk's market share in the soy milk drink category stood at over 80%. In the 2014 annual report, it was stated that the market share of Vitamilk was 86%, up from 70% as reported in the 2013 annual report.
The key marketing approach for Vitamilk is similar to the C2 RTD tea and that is to emphasise the health benefits. For Vitamilk, it is the benefits of soya beans, said Asia Brewery VP Joseph "Chay" Cruel.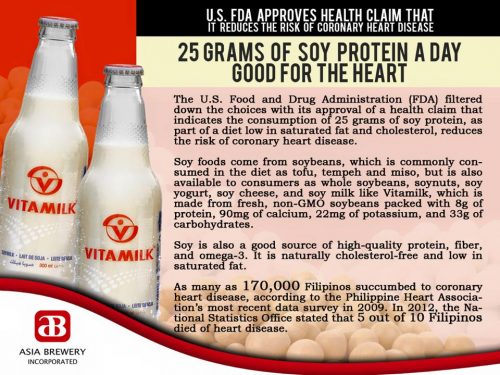 Competitive landscape – Thailand as the key supplier
Thailand is now the biggest supplier of soya milk drink to the Philippines. Thailand's share of import rose significantly following Asia Brewery's exclusive contract with Thailand's Green Spot in 2011. Previously, Malaysia was the top exporter of soya milk drink and is still the second largest but the country now accounted for only 7% of value in 2016 as opposed to 89% for Thailand.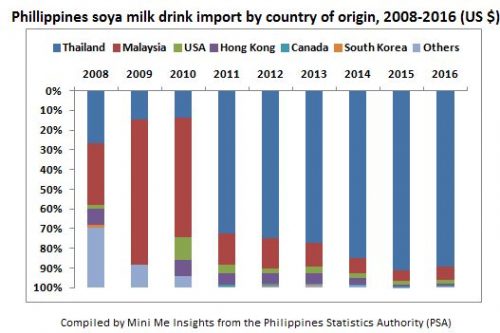 Hong Kong is fourth in import value in 2016, accounting for a mere 1%. The US is the third biggest source of soya milk drink, contributing 2% in 2016.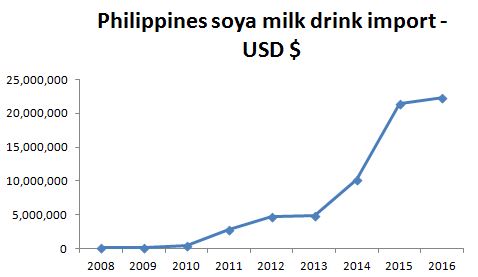 Data above was compiled by Mini Me Insights from Philippines Statistical Authority (PSA)
The market as reflected by the import value appeared to be plateauing in 2016 with value growing by a mere 3.7% in USD terms or up by 6.5% in local currency terms. The slow growth can be largely explained by the commissioning of the Asia Brewery's Vitamilk factory in the second half of 2016, which means import statistics will no longer be a good proxy to understand the total value of the soya milk drink market in the Philippines.
What Mini Me thinks
Soy milk is seeing strong sales potential not only in the Philippines but also in Indonesia. The key driver is health, a positioning Vitamilk has embraced to promote its soy milk. "Vitamilk benefits" is the key related query when searching for Vitamilk, according to Google Trends.
Penetration of soy milk is still low, which means there is still ample of space to accommodate new competitors including Vitasoy. The interest for Vitamilk currently lies predominately in the urban areas of Central Luzon and Metro Manila and has yet to reach the semi-urban and rural areas.

Search for Vitamilk in Google Trends (image above)
As Vitamilk is currently selling in glass bottles, Vitasoy can differentiate by introducing soy milk in Tetra Pak for convenience and portability.