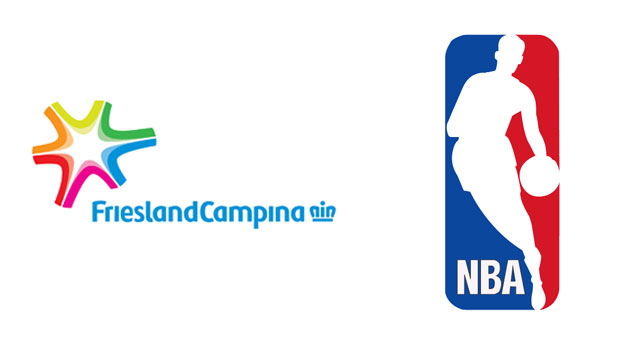 On 4 March 2014, FrieslandCampina entered into a multiyear marketing partnership with the National Basketball Association (NBA). According to the
press release
:
"As the Official Milk Partner of the NBA in Indonesia, Malaysia, Thailand, Vietnam and the Philippines, FrieslandCampina will activate its Drink.Move.BeStrong campaign to reach the NBA's broad and passionate fanbase in Asia through grassroots events, television and digital activities and localised content for its customers. The company will also provide NBA fans the opportunity to receive NBA-branded products, in store promotions and unique NBA experiences."
FrieslandCampina is the parent company of Dutch Lady Milk Industries Bhd. My speculation is that Dutch Lady maybe using the NBA partnership to promote its Dutch Lady Chocolate Drink EzyMix. The product, launched in Malaysia in 2012, was Dutch Lady's first venture into the chocolate health drink segment, which is now dominated by Nestle's Milo.
The marketing of Milo is often associated with sports. The latest Milo campaign is the MILO Institute of Champions. According to Nestle, the institute is "a place where we help each and every child become Malaysia's future Champions by unleashing the sporting potential that lies within. A place to nourish your child to be the future champion in life, with a healthy body and the right values in life."
Dutch Lady has picked the right product – chocolate milk – to compete with Milo. Despite having a long history in Malaysia, GSK's Horlicks has failed to unseat Milo because of the taste. The success of Milo shows Malaysians prefer chocolate milk over Horlicks' malted milk drink.
In terms of marketing, Dutch Lady Chocolate Drink focuses on the taste and has been positioned as a drink for the family. The product claims to be the "yummiest chocolate drink ever for the entire family." The EazyMix catch is all you need to do is to mix it with water, hot or cold, to enjoy the "yummiest" chocolate drink. Such marketing is not sustainable and lacks an anchoring point.
With the NBA partnership, hopefully Dutch Lady will have another weapon in its arsenal to position itself as a drink for the active ones. The problem with basketball marketing in Malaysia is that basketball is a sport predominantly played by the Chinese whereas football is played mostly by the Malays. Football has a strong fan base among all ethnic groups and international matches are commonly broadcast live on the television. For basketball, the fan base is smaller and does not reach the feverish pitch as football. Let's see what the FrieslandCampina-NBA partnership will bring in the Malaysian context.
Store Check
Product
Weight (g)
Price (RM)
Dutch Lady Chocolate Drink

 

350
8.0
Dutch Lady Chocolate Drink

 

900
17.9
Nestlé Milo Chocolate Malt Drink

 

400
8.0
Nestlé Milo Chocolate Malt Drink

 

1,000
18.0
Store check: Tesco Malaysia Online Store on 13 March 2014