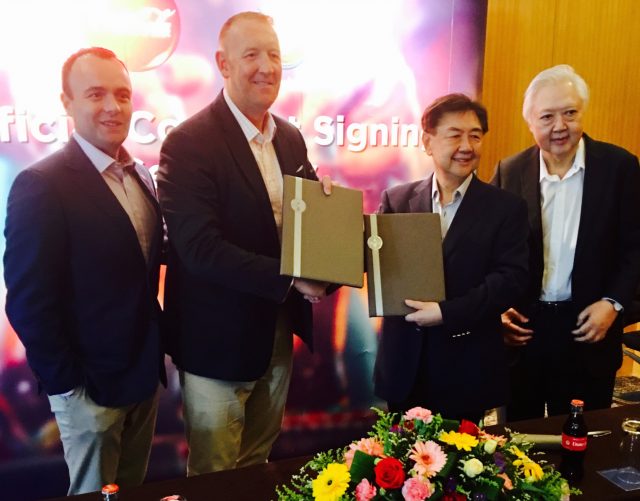 19 May 2017
Coca-Cola Continues As The Wingman for Texas Chicken
Every serving of hot, fried chicken needs a good, icy beverage to complement it to create a great meal and Texas Chicken has again chosen Coca-Cola as its partner to make sure that diners continue to have that delicious experience.
Envictus Food Service Sdn Bhd – the operator of the Texas Chicken restaurants in Malaysia – has renewed its beverage partnership agreement with Coca-Cola Malaysia for another five years to December 2021 after the previous three-year agreement ended.
"We are proud to have our Coca-Cola beverages served alongside Texas Chicken's menu items and very pleased that diners will continue to have the perfect beverage to go with their meals," said Chief Executive Officer of Coca-Cola's Bottling Investments Group Singapore, Malaysia and Brunei, Stephen Lusk.
Diners can continue to enjoy a choice of beverages from The Coca-Cola Company such as Coca-Cola, Coca-Cola Zero, Sprite, Fanta Grape, Heaven & Earth Ice Lemon Tea and Minute Maid Refresh at all 35 Texas Chicken outlets in Malaysia.
Texas Chicken, which landed in Malaysia in 2013, is the value leader in the Chicken QSR category and differentiates itself by focusing on the care and attention it gives in the preparation of its food.
Texas Chicken outlets are located at AEON Bukit Tinggi Klang, Damansara Utama, Kepong, Shah Alam, Ara Damansara, Nilai, Seremban, Penang Island and Butterworth.
"We are pleased to partner with the world's leading beverage company and look forward to a mutually beneficial relationship in our business partnership," said Dato' Jaya Tan, Chairman of Envictus International Holdings Limited.
The Coca-Cola Company in Malaysia
In addition to Coca-Cola, one of the world's most valuable brands, the Coca-Cola system in Malaysia manufactures, markets and distributes over 80 products including sparkling beverages (Fanta, Sprite, A&W, Schweppes), zero-calorie sparkling beverages (Coke light, Coke zero), juice drinks (Minute Maid Pulpy), teas (Heaven and Earth) and water (Dasani).
Coca-Cola has invested RM1 billion in Malaysia since 2010, creating more than 800 jobs and touching over 75,000 customers directly with a total reach of over 200,000 customers across Peninsula Malaysia and East Malaysia. Through its programmes and partnerships Coca-Cola Malaysia aims to make a lasting positive difference in the local community.
From promoting active lifestyles through their partnership with the Olympic Council in Malaysia, to working with Raleigh International and Muslim Aid Malaysia to provide access to clean water for more than 22,000 villagers in rural Sabah, and economically empowering women in East Malaysia through the SURI entrepreneurship programme – Coca-Cola is committed to building sustainable communities in Malaysia.
 About The Coca-Cola Company
The Coca-Cola Company (NYSE: KO) is the world's largest beverage company, refreshing consumers with more than 500 sparkling and still brands and more than 3,800 beverage choices. Led by Coca-Cola, one of the world's most valuable and recognizable brands, our company's portfolio features 20 billion-dollar brands, 18 of which are available in reduced-, low- or no-calorie options. Our billion-dollar brands include Diet Coke, Coca-Cola Zero, Fanta, Sprite, Dasani, vitaminwater, Powerade, Minute Maid, Simply, Del Valle, Georgia and Gold Peak. Through the world's largest beverage distribution system, we are the No. 1 provider of both sparkling and still beverages.  More than 1.9 billion servings of our beverages are enjoyed by consumers in more than 200 countries each day. With an enduring commitment to building sustainable communities, our company is focused on initiatives that reduce our environmental footprint, create a safe, inclusive work environment for our associates, and enhance the economic development of the communities where we operate. Together with our bottling partners, we rank among the world's top 10 private employers with more than 700,000 system associates.
For more information, visit Coca-Cola Journey at www.coca-colacompany.com, follow us on Twitter at twitter.com/CocaColaCo, visit our blog, Coca-Cola Unbottled, at www.coca-colablog.com or find us on LinkedIn at www.linkedin.com/company/the-coca-cola-company.
About Texas Chicken
Texas Chicken is a highly recognized brand name in the Quick Service Restaurant sector and is one of the largest quick-service chicken concepts in the World. Texas Chicken serves freshly prepared, high quality, flavorful chicken both Original and Spicy and tenders with classic sides and hand-made from scratch biscuits. Texas Chicken differentiates from its competitors in care and attention given in preparation of food, and is positioned as the value leader in the Chicken QSR category. Texas Chicken Malaysia is operated by Envictus Food Service Sdn Bhd. Texas Chicken first landed in Malaysia on 2013 with its first outlet at Aeon Bukit Tinggi Klang, Selangor. Through the years has subsequently opened 35 other stores across the Klang Valley, Negeri Sembilan and Penang. Their outlets are located Aeon Bukit Tinggi Klang, Uptown PJ, Kepong, Shah Alam, Ara Damansara, Nilai, Seremban, Penang Island and Butterworth.
For further information, kindly visit Texas Chicken at http://www.texaschickenmalaysia.com/, follow us at Facebook https://www.facebook.com/TexasChickenMalaysia or visit our instagram at https://www.instagram.com/texaschickenmalaysia/