TENA Empowering Tour to tour West Malaysia and drive change in perception and in action towards incontinence
Kuala Lumpur, 18 May 2017 – TENA and the Harley Owners Group (HOG) Malaysia have teamed up to show the people of Malaysia that it is time to give bladder weakness a share of voice in the country. With 16 riders travelling over 1,700 kilometres throughout West Malaysia, TENA aims to stop the social stigma surrounding incontinence and improve the quality of life for those living with it.
During the flag off ceremony, Evelyn Chan, Marketing Director of SEA Vinda Group said, "As the leader in continence care globally and in Malaysia, TENA has always been committed to raising awareness on incontinence. In that, we believe that it is time we do things differently to change how people think and behave towards incontinence."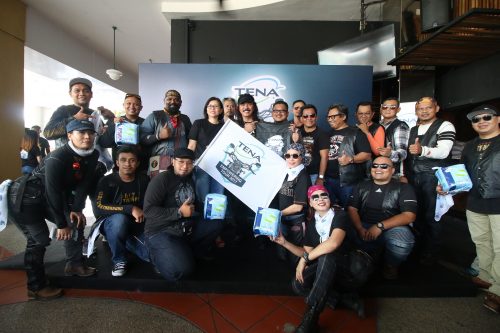 Evelyn Chan, Marketing Director of SEA Vinda Group and Roslan bin Ismail (aka TJ), Director of Harley Owners Group (HOG) KL Chapter Malaysia with riders of the Harley Owners Group. (image above)
"With the support of the Harley riders and Continence Foundation of Malaysia, we hope that the TENA Empowering Tour will bring about a positive change in the conversation surrounding incontinence. Some of the riders are the perfect example of our mission to help those living with incontinence continue leading a full, happy and adventurous life."
Incontinence happens when one loses control of his or her bladder involuntarily. Living with incontinence is an emotional ride where embarrassment and withdrawal from family and friends is a norm. With this tour, TENA is dedicated to show the people of Malaysia that incontinence is not something to be ashamed of.
Dr Peter Ng Eng Pin, President of Continence Foundation of Malaysia, was also at the flag off ceremony. He said, "Bladder weakness is a condition commonly faced by many. In Malaysia alone, at least 1.4 million Malaysians may be suffering from some form of incontinence[1]. Though many live with this problem, very few can talk about it openly as they think that they alone have this condition. This is topped with the many misconceptions regarding incontinence – one being that it happens only to the elderly. However, statistics show that people as young as 20 years old may have this condition1."
Mr. Roslan bin Ismail (also known as TJ), Director of Harley Owners Group (HOG) KL Chapter Malaysia said, "During the tour, we hope to change the thoughts, action and lives of those living with incontinence. We hope they can begin to openly seek help with the support of their family and friends."
The TENA Empowering Tour begins on 18 May 2017 and will be making pit-stops at Tesco Tebrau Johor Bahru, Tunas Manja Group Indera Mahkota Kuantan, Pantai Timur Hypermarket Kelantan, and end at Komtar Penang before returning to Kuala Lumpur.
During the pit-stops, TENA and HOG will be collecting social media pledges for the cause from the general public. For every pledge submitted, TENA will donate one pack of TENA product to an old folks' home.
At the event, TENA also highlighted its TENA Pants product range – the TENA Pants Plus and TENA Pants Value. This range is designed for those who are active physically and socially. Alongside its discreet features that provide maximum security against leakage and odour, the TENA Pants can also be worn conveniently just like underwear, making it easy to use on a daily basis.
Evelyn Chan added, "There is no reason that incontinence should deny us the very things we most enjoy in life. Many who have bladder weakness tend to shy away from social activities for fear of an 'accidental leak' or that others might notice the urine odour. We hope that TENA Pants will give them a chance to live their lives without restrictions."
The TENA Pants product range which comes as TENA Pants Plus and TENA Pants Value are available at most retail outlets throughout Malaysia. The recommended retail prices are RM32.90 for the TENA Pants Plus and RM25.90 for the TENA Pants Value. Those interested in trying TENA Pants Plus can contact TENA Careline at 1800-88-9988 (Monday-Friday, 9am-5pm) or register at www.TENA.com.my for a free sample.
For more information about the TENA Empowering Tour, please visit https://www.facebook.com/TENA.Malaysia.
[1] Based on Pop from US Census Bureau IDB, Prevalence Calculation from VINDA Feb 2017 and International Continence Society
Facts About Incontinence
According to the World Health Organization, more than 200 million people worldwide are affected by bladder problems[1]. In Malaysia alone, at least 1.4 million Malaysians may be suffering from some form of incontinence1. It may affect 1 in 3 women over the age of 40[2] and 1 in 20 men at some point in their lives1. Additionally, at least 1 in 2 senior citizens may be living with urinary incontinence1.
Incontinence occurs when there is an involuntarily loss of urine or faecal from the bladder. Though not life threatening, this prevalent problem has had many misconceptions including that only older people are affected. Another important thing to note is that bladder leakage is not a disease, it is a symptom contributed by underlying health conditions. Without proper awareness to the condition, people will still take this issue lightly and avoid pursuing medical help due to embarrassment.
About TENA
As a global leader* in incontinence care, TENA has over 50 years of specialist experience in delivering continuous innovation. TENA as The Understanding Specialist is dedicated to empowering healthcare professionals and people living with incontinence with product, solution and knowledge in continence care.
*Based on SCA Annual Report 2016.
 About SCA
SCA Hygiene Marketing (M) Sdn Bhd is part of VINDA GROUP, one of the largest companies for hygiene products in Asia. The Vinda Group has nearly 10,000 employees, and sales are conducted under many strong tissue and personal care brands such as Vinda, Drypers, TENA, Dr. P, Libresse, VIA, Tempo, Tork, Libero and Sealer.  Vinda has its headquarters in Hong Kong and is listed on the Hong Kong Stock Exchange (stock code: 3331.HK). SCA, a leading global company for hygiene products from Europe, is the majority shareholder of Vinda.
[1] All About Incontinence, Some Statistics about Urinary and Faecal Incontinence, http://www.allaboutincontinence.co.uk/incontinence-statistics
[2] Based on a survey conducted by Dr Peter Ng with women over 40 in Malaysia