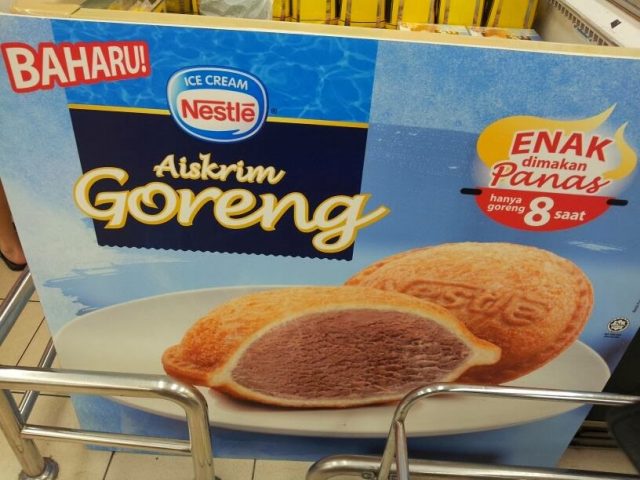 Nestle Fried Ice Cream has just been launched in Malaysia. The ice cream is deep fried for eight seconds at a temperature of 180 degrees Celsius. After that it is ready to be served. The promotional price is RM 9.90 for a pack with six pieces. There are two flavours – chocolate and vanilla.
According to Wikipedia, deep ice cream "is a dessert made from a breaded scoop of ice cream that is quickly deep-fried creating a warm, crispy shell around the still-cold ice cream." The dessert has been around since the late 1800s. In Malaysia, such treat has been making round in the country for a number of years either made at home using available ingredients or served at catering establishments.
However, there has never been a packaged option in retail stores that comes together with the outer bread layer.  It can be a hassle making the outer layer from bread and crumbs but this does give one a say on the ice cream that goes inside – Wall's, Nestle, Magnolia or even Häagen-Dazs. With the conveniently-prepared Nestle Fried Ice Cream, lazy bumps like me will only have one choice for the ice cream, that is Nestle.
The downside of this product is one has to literally practice to make the perfect fried ice cream. According to a netizen known as finch!
"Its nice. But its quite hard to goreng [fry] for 8 secs and make the crust crispy. goreng longer and the ice cream inside will melt. so uhm.. have to practice more."
Fellow blogger Diarymama has a similar problem keeping the ice cream from melting despite frying it for just eight second as told in the instruction. Obviously, Nestle still has lots of work to do to ensure the ice cream doesn't melt so soon.
Related posts:
Nestle embarks on consumer education for its fried ice cream