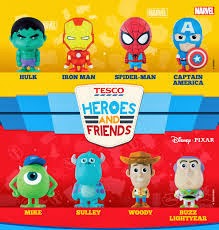 Face with growing competition, retailers are turning to the fast food chain's tried and tested trick of toy giveaways. Tesco Stores (Malaysia) came out with the Heroes and Friends promotion in October 2013, a truly novel marketing by a hypermarket chain in the country. As part of the promotion, eight iconic Disney Pixar's classic figures and Marvel's super heroes were up for grab. Yours truly managed to collect three out of the eight figurines including Mike, Sulley and Hulk.
Malaysian shoppers, young and old alike, can be crazy about collectibles.  If Tesco were to include minions from the Despicable Me franchise, it is highly likely that the minions will fly off the shelves in no time. The store may be ransacked too. There was a mad rush for McDonald's Despicable Me minions mainly by adults in Malaysia in July 2013, leaving kids with no minions to pay with. Rather similar scenes were repeated in Singapore in June 2013 with long queues at McDonald's for Hello Kitty toys.
The Tesco promotion ran from 29 October 2013 to 26 January 2014 but all the collectibles were gone before the promotion ended, an indication of the success of the Heroes and Friends promotion.
The Indonesian minimart chain Alfamart is hoping to reap the same success with a similar program in Indonesia. The only difference is the addition of two more characters in the Alfamart Super Heroes and Friends campaign.
In Australia, Woolworths has seen huge success with its children-focused Aussie Animals collectable cards and albums in 2013 (two waves after the first one ran out of stock). Analysts even credited the Aussie Animals trading card promotion for helping to raise Wooldworths' group sales for the second quarter ending 5 January 2014, reaching AUD 16.16 billion, up 5.9% year-on-year, higher than the 4.9% growth achieved in the same period a year ago.

For Woolworths, "this is the first time we've run a collectables program and we are overwhelmed by its success.  Our customers have responded so positively to the program and it's been great to see so many kids learning about our precious Australian wildlife in a fun and engaging way."
The potential of the collectables program has just been awaken in the Asia Pacific region. Unlike grocery points, collectables are limited in nature and are able to generate huge excitement within a short span of time. Pretty soon, more of such programs will make their rounds across the region. The real challenge is to find collectables that can appeal to local shoppers.