E-commerce has been a saviour for many who are not able to get hold of their products or cannot leave their house. Many online grocers in Malaysia are operating at full capacity and are struggling to fulfill customer orders. E-commerce is also facing external challenges including roadblocks and the lack of supplies.
On 26 March 2020, Tesco Malaysia cancelled all online orders for Penang Island citing "multiple roadblocks into the island."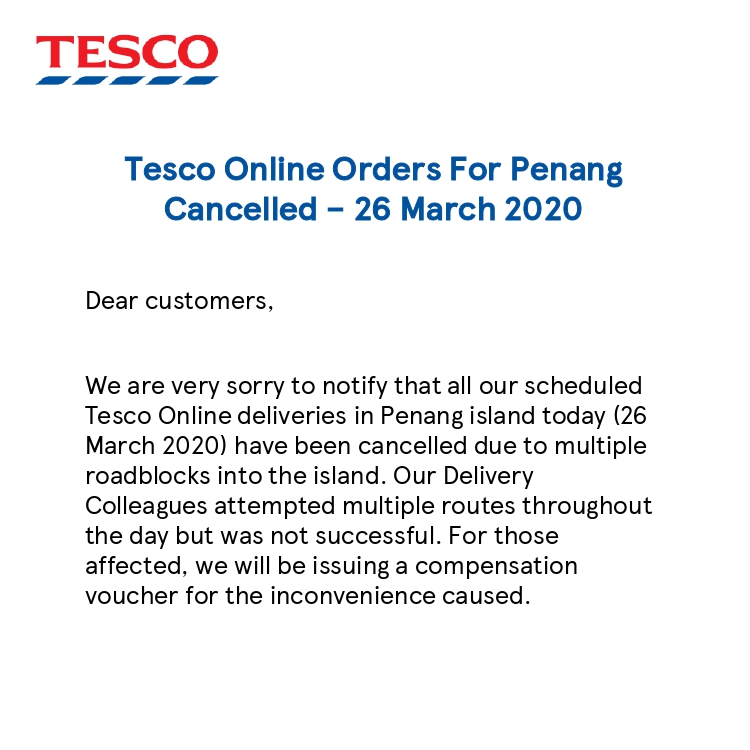 Due to the surge in demand, Jaya Grocer had to temporarily suspend online delivery service on 17 March 2020 until further notice so that they could replenish stocks on the shelves for walk-in customers. Online delivery service is still suspended at the time of writing to give priority to supporting the running of the brick-and-mortar operation.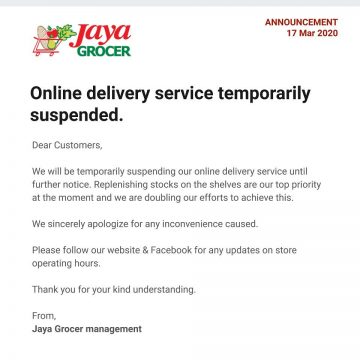 Mydin is also facing the same predicament as the other grocers. Supermarket chains are facing tough times to fulfill orders due to higher than usual orders as most delivery slots have been taken, while supply disruption has affected the availability of products.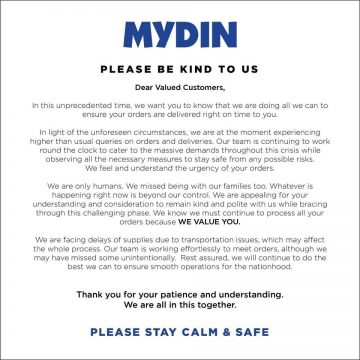 Online grocery shopping has appeared to come to a standstill in Malaysia as most of the delivery slots have been taken, which means new orders cannot be processed. This situation is not unique to Malaysia. In the UK, there will be no Tesco's home delivery slots for nearly another month from 26 March 2020 to 15 April 2020.

At the end of the day, physically shopping at the store the traditional way is still the most reliable way to ensure consumers get what they want. With MCO still in force, neigborhood stores will continue to play a strong role in meeting consumer shopping needs.
AEON Retail Malaysia has up the game by launching AEON Personal Shopper Service. The service is available at all AEON Supermarkets. The personal shopper will get the products for you while you wait in the comfort of your car. Here is how it works:
1. Drop your order to our Personal Shopper.
2. Wait in your car/ have a seat while we pick up the items for you.
3. We Will contact you once your order is ready to be collected.
4. Made payment at our appointed cashier counter.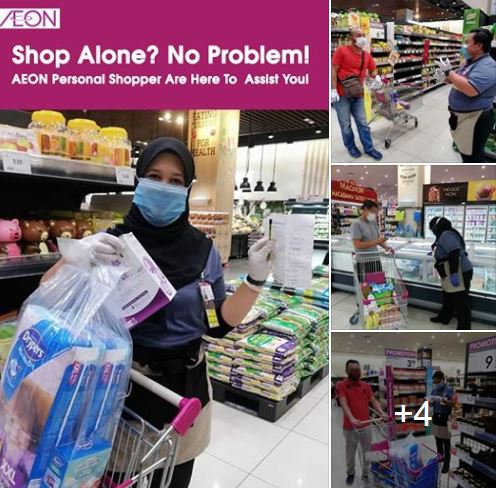 AEON Retail has added the drive-through shopping feature at AEON Big Subang Jaya and AEON Style Taman Maluri for pick up, which is an interesting initiative by AEON given the unreliability of online shopping. This service has since been extended to more outlets.
Wet markets are thriving as consumers can confidently know that fresh foods are still available in abundance.
The ubiquitous convenience stores can start adding more fresh products as shoppers may find it hard or not willing to venture outside of their homes during the partial lockdown period.
We have also seen fresh food producers selling directly to end consumers through Whatsapp but getting the orders delivered to consumers can be tricky given the enforcement of restrictive movement by the authorities. So far, this business model is thriving as consumers can get their fresh produce delivered straight to their homes from the farms. The question is would consumers continue to order fresh produce using social media after the CMO is lifted?