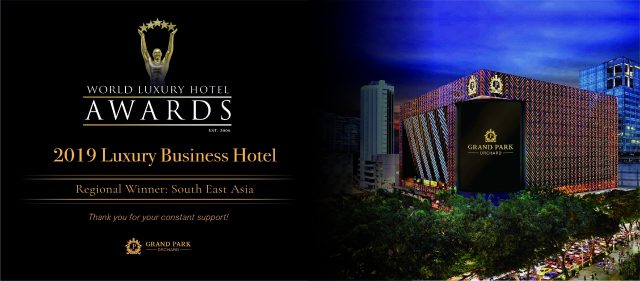 Singapore, 7 February 2020 – Commemorate a decade of award-winning service with Grand Park Orchard as it celebrates its 10th Anniversary on 10 October 2020. The flagship property of Park Hotel Group, Grand Park Orchard will be marking this historic milestone with a round of promotions throughout the year across the hotel and its award-winning food and beverage outlets, Bar Canary, Mitzo Restaurant and Bar.
Since its opening in 2010, Grand Park Orchard has been recognised as one of the most iconic buildings on Orchard Road and has received numerous awards, making it the top choice for travellers. The hotel offers 308 luxurious rooms and suites, as well as a range of facilities such as the Crystal Club lounge, versatile meeting rooms, an outdoor swimming pool and complimentary shuttle bus service to significant landmarks.
Guests visiting the hotel can enjoy two onsite food and beverage outlets, both located on the fourth floor. Bar Canary sits next to the outdoor swimming pool and offers an idyllic getaway from the hustle and bustle of the city. While Mitzo Restaurant and Bar fills the gap in the market for a chic and contemporary Chinese fine dining experience, offering an innovative take on Cantonese cuisine complemented by an artisanal cocktail programme.
Through the years, Grand Park Orchard's commitment to exemplify hotel standards and genuine hospitality has shone through. To celebrate its 10th Anniversary, Grand Park Orchard will be running exciting promotions for premium accommodation and across all food and beverage outlets throughout 2020.
February
The celebration begins with specially curated promotions across the venue: Grand Park Orchard, Mitzo and Bar Canary. Guests who book through the brand website by 31 March 2020 will enjoy a 30% off Club Premier rooms and Park Suites with the stay period being available until 30 June 2020.
The month of love is also celebrated in full at Mitzo with a special Valentine's Day set menu and couples who double date can enjoy 10% off the menu, while those who triple date will receive 20% off the menu. At Bar Canary, Park Rewards members and new sign-ups can celebrate with the signature Boozy Pops at $10++ each.
March
To wrap up the first quarter of 2020 Park Rewards members and new sign-ups can grab their girlfriends and head to Mitzo to enjoy $10 off Ladies' Gourmet Night every Thursday. In addition, Bar Canary will be offering a special Martini Negroni at $10++ per glass throughout the month.