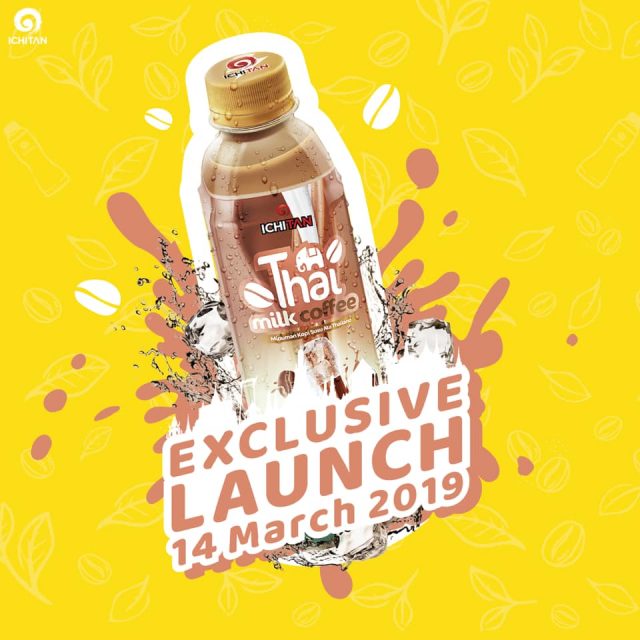 Thailand's Ichitan has officially launched its Ichitan Thai Milk Coffee in Indonesia on 14 March 2019. The new drink represents a new addition to the existing Ichitan Thai Milk Tea. Ichitan Thai Milk Coffee rides the Thai milk tea trend and the popularity of RTD coffee. Both products are available at minimarkets and supermarkets as well as on JD.id.
Ichitan Thai Milk Coffee (310ml) retails at a discounted price of IDR 7,500 (USD 0.53) on JD.id. The normal price is IDR 8,000 per bottle.
Ichitan continues to experience depressed sales
Ichitan reported a 8.5% fall in sales revenue for the 12 months to December 2018 to THB 5.2 billion citing the impact of the sugar tax and the sluggish Thai RTD tea market. Revenue from Thailand fell 15.5% year-on-year to THB 3.5 billion, while "others" including Indonesia rose 10.4% year-on-year to THB 1.7 billion.
The THB 5.2 billion revenue achieved in 2018 is a far cry from the company's initial target of THB 6.7 billion for 2018. Back in early 2018, Ichitan was betting on the strong pre-orders from Cambodia, Laos, Myanmar and Vietnam (CVLM).
Ichitan's sales performance in Indonesia has also not achieved expectation. The company also said it recorded an impairment of loss on investment in PT Ichi Tan Indonesia (PTI) of THB 133 million in the statement of comprehensive income of separate financial statements for the year ended 31 December 2018 (2017: THB 154.6 million).
"Due to the actual sales of beverage branded "Ichitan" in Indonesia may be significantly less than initial expectations and forecasts. The management of the Company believed that the value of investment in PTI might have been impaired and assessed the recoverable amount of investment in PTI which is calculated based on the fair value less cost of disposal of investment in PTI."