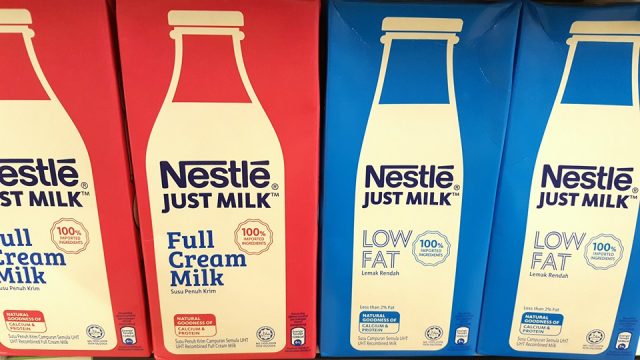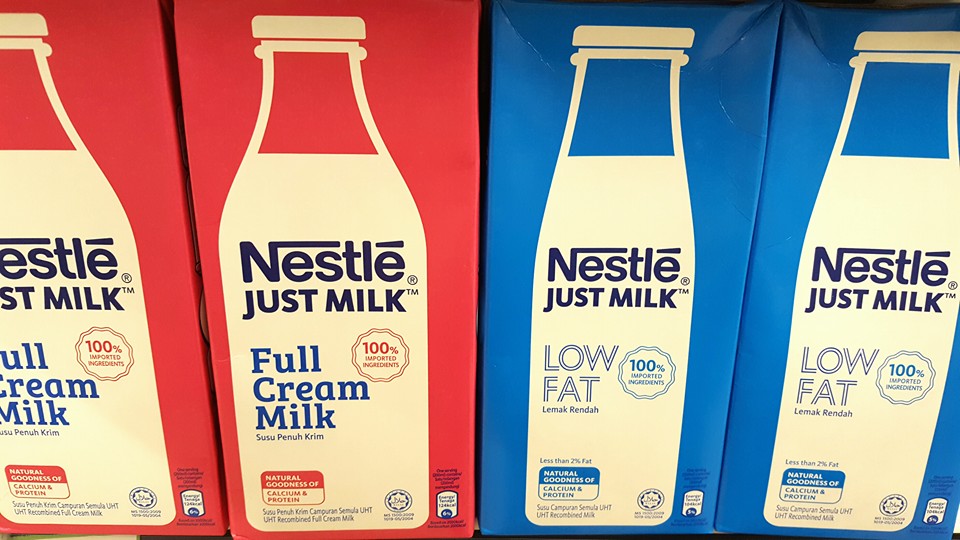 Nestle Malaysia Sdn Bhd has recently unveiled a new packaging for its UHT milk range. The company is also among the last UHT milk player in the country to refresh its UHT milk packaging. Even though it is among the last, the new design does look unique.
Clean design
Much thought has gone into the redesign of the new packaging. The result of the revamp is a packaging that is clean and crisps. It features a transparent glass milk bottle design that conveys a sense of purity. The nothing-but-milk message is reinforced with the adoption of a new name Nestle Just Milk.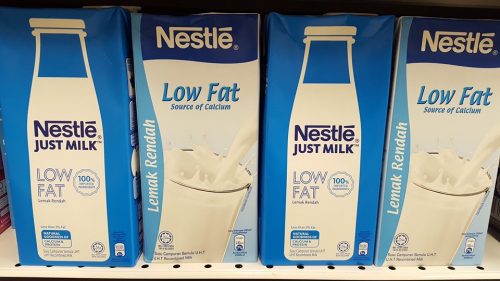 The bottle on the new Nestle Just Milk Low Fat is slimmer compared to the full cream milk version, which features a larger bottle with the word 'Full Cream Milk' in bold font.
Journey from farm to table
Unlike the old packaging where there is no mentioning of the source of the milk, the front of the new packaging clearly states the use of '100% imported ingredients'. The back of the packaging describes the entire journey from farm to table. The story starts in Australia and New Zealand where the milk comes from. The milk is handled gently to ensure the calcium and protein is retained. It is then sealed and packed for delivery. The key word is 'safe and clean.'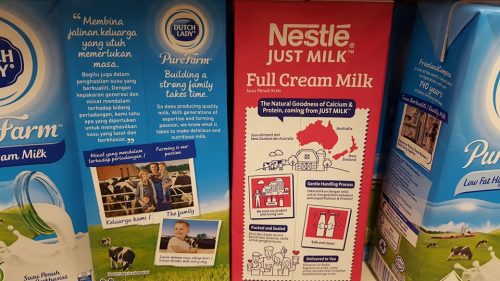 How Nestle Just Milk compares with rivals
The story about FrieslandCampina's Dutch Lady PureFarm is heritage. The company focuses on the farming heritage showing it takes 'generations of expertise and farming passion' to 'make delicious and nutritious milk.'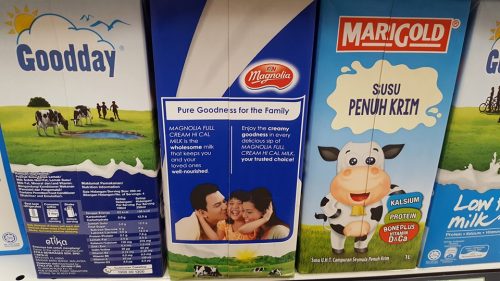 The marketing message is less pronounced for the other players – Goodday, F&N Magnolia and Malaysia Milk's Marigold.
Nestle Just Milk is comparable to F&N's Farmhouse, which is proud of its Australian heritage but the price is much higher for Farmhouse selling at RM 7.99 for a 1 litre pack compared with Nestle at RM 6.29.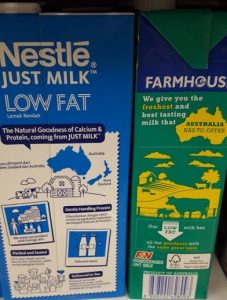 Stand out in the crowded shelf
The red-white packaging of Nestle Just Milk ensures stronger visibility in the sea of blue-white packaging.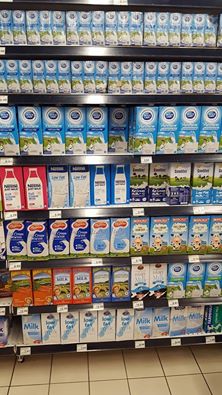 Key takeaway
In the past, Nestle UHT milk has appeared to have been pushed to the side by the strong marketing efforts of Goodday and Dutch Lady PureFarm. With the new packaging, Nestle Just Milk might probably regain some lost ground, attracting new consumers who are keen on the new clean packaging to fit their contemporary lifestyle. The emphasis on the use of imported milk will also attract consumers who are interested in imported milk.