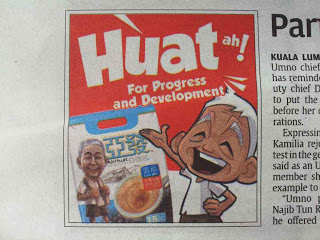 In Malaysia, election is around the corner. On 5 May 2013, Malaysians will know if the ruling coaling BN or the opposition Pakatan will win. In the meantime, coffee companies are busy advertising on the newspapers to take advantage of the election fever.
Power Root (M)'s Ah Huat marketing is very innovative. The company cleverly uses Ah Huat as a politically neutral fictitious election candidate with a funny face to bring a lighter moment to the serious business of election. Regardless of who wins, a vote for Ah Huat means a vote for progress and development.
So have a cuppa, sit back and huat ah!