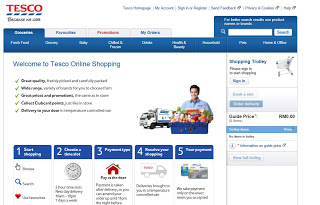 Tesco has launched Grocery Home Shopping Service, touted as the first online grocery shopping service in Malaysia by a hypermarket operator. Finally, one can do their grocery from the comfort of their office/house for a fixed delivery fee of RM 10. Delivery can be made from 10am to 10pm seven days a week. The address is at http://eshop.tesco.com.my/. Phase one will cater to residents living within the 20km radius of Tesco Mutiara Damansara.
This service is ideal for image-conscious office ladies who do not wish to carry products that are heavy like rice and edible oil and stuff that are bulky and not nice like toilet rolls. The service is also good for people without their own transport and those living in high rise apartments.
Key risk is consumer satisfaction: The price in the order confirmation email may defer from the final bill. That is why Tesco calls it guide price. Four reasons were given for the different prices – changing in-store prices, substitutions (when the product is unavailable on the day of the delivery, the customer will be given a substitution that they either accept or decline), weighted products (depending on the scale) and promotion dates (if your delivery slot is booked for after the promotion end date, the promotion price will not be applied).
Why e-store? Tesco is seeing its top line growth slowing down mostly due to strong competition from smaller store formats including minimarts with the likes of 99 Speedmart and KK Super Mart as well as the growth of local hypermarket chains/wholesalers such as NSK, TLC Hypermarket, Jaya Grocer and Econsave. E-grocery may add some growth momentum and excitement to Tesco.
I believe Tesco has also sensed the rising B2C market in Malaysia and the opportunities for online grocery shopping. Malaysians are not just spending huge on AirAsia air tickets but also on other stuff on B2C sites like Lazada and Zalora etc.
The e-commerce venture will be a cash-burning business in the initial phase unless volume picks up, which is the ideal case. The worst case is Tesco can easy fold it and try again another time.