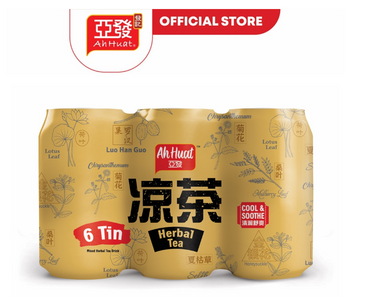 Power Root (M) Sdn Bhd has made an entry into the herbal tea segment in Malaysia with the launch of Ah Huat Herbal Tea (亞發凉茶). The latest drink is described as having "a perfect blend of 9 herbs and each herb has its proven benefits." The drink is sold in a 310ml can and has a shelf life of 2 years. The nine ingredients are American ginseng, honeysuckle, liquorice, luo han guo, mulberry leaf, chrysanthemum, mesona, selfheal and lotus leaf.
The RTD herbal tea segment is Malaysia is largely confined to a few notable brands such as Wong Lo Kat, Hovid's Ho Yan Hor and some of the other imported herbal tea from China such as Heqizhen. Right now, the challenge is expanding herbal tea's usage among the Malay community. Mamee has tried it with its Mamee Cool Tea in 2015, a product that has since been discontinued.
For the 11-11 campaign, Ah Huat Herbal Tea will be available with an introductory price of RM 6 for a pack with 6 cans (normal price RM 13.50). Click here to purchase on Shopee.