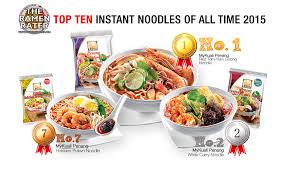 Coffee and Instant Noodle popularity analysis by country of origin for the past 30 days on shu.taobao.com
One question that bothers me is why Malaysia has successfully created a market for 3-in-1 white coffee in China where even Nescafe has to come up with a similar range there but our instant noodle is languishing. OldTown has made it big in China but unfortunately, Malaysia did not even get a mention when it comes to instant noodle.
Korean noodle's popularity in China is understandable, thanks to the Korean wave, which created a taste for spicy Korean ramyun. According to news report, Nongshim China sales in 2014 reached a record USD 180 million, up 28% citing the successful strategy of focusing on western China since early 2014. Hong Kong instant noodle is well received in southern China due to its geographical proximity with the mainland.
Thailand's instant noodle gets a mention because of its delicious tom yum flavour boosted by the recent flood of Chinese tourists to Thailand. The Taiwanese dominate China's instant noodle market through Tingyi (Master Kong) and Uni-President and naturally, Taiwan-made instant noodle has a market in China. As for Singapore, the island nation has successfully exported its instant noodle to China through Tat Hui Foods' Koka.
Singapore's Koka instant noodle on RT-Mart's Feiniu.com online store
A survey by ePanel in November 2014 revealed the two most popularly eaten instant noodle flavours in China were braised beef (红烧牛肉) and Laotan spicy and sour (老坛酸菜). Others only accounted for 3.3%.
MyKuali is famous for its spicy curry noodle but what Chinese consumers generally like is a different kind of spiciness, not those with coconut milk. However, taste can change as evidenced by the growth in cheese and yogurt consumption in China.
By analysing the search results on Taobao.com using shu.taobao.com, both Penang white curry noodle (槟城白咖喱面) and Thai instant noodle (泰国方便面) are popular in the southern province of Guangdong. Penang white curry noodle, in particular, is distinctly popular in Guangdong, a province known to be more receptive of Southeast Asian cuisines including curry. The cosmopolitan city of Shanghai is second when it comes to Penang white curry noodle, followed by Hubei in central China and Zhejiang in eastern China.
Most popular searches for Penang white curry (left), Korean Shin Ramyun (middle) and Thai instant noodle (right) by province (省份) and city (城市). Period 1 December 2014 to 3 May 2015
By gender, Chinese male consumers (52%) are more receptive towards Penang white curry noodle, while females dominate Thai instant noodle (61%) and Korean Shin Ramyun (辛拉面) at 63%. Male consumers are more likely to eat instant noodle as a mean to satisfy their hunger pangs but females are usually more particular about the taste. Therefore, it is important for Penang white curry noodle to capture the imagination of Chinese female consumers and turn them into repeat users and a word of mouth referal.
By age, it is very clear Shin Ramyun and Thai instant noodles are well received by young consumers below the age of 34. For Shin Ramyun, 70% of those who are interested in the product are below the age of 29. In contrast, consumers who are interested in Penang white curry noodle are older in age concentrating in the 25-29 age growth with 38%, 18-24 with 21.1% and 35-39 with 16.9%. So, it important for Penang white curry noodle to project a more youthful image to attract young consumers who are more likely to consume instant noodles compared to older consumers who are worried about the ill effect of instant noodle.
Despite Malaysia seeing 5 out of 10 instant noodles appearing on the latest The Ramen Rater top ten instant noodle list for 2015, there is still much work to be done to penetrate the China market. The first thing Penang white curry instant noodle makers need to do is to target female Chinese consumers, focusing their marketing efforts in southern and eastern China and use social media to reach out to young consumers.