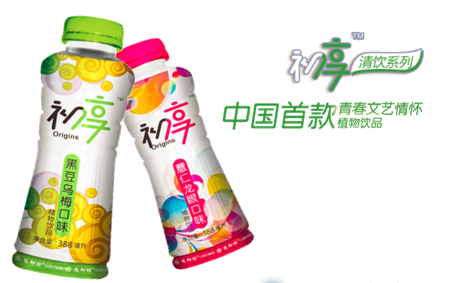 The bottle has become an artwork. China's coarse grain (粗粮) producer maker Deyufang (德御坊) has recently unveiled Chu Xiang (初享) plant drink. Chu Xiang comes in two flavours – black bean and plum (黑豆乌梅) and Job's tear and longan (薏仁龙眼).
Chu Xiang, literally means "early enjoyment" is targeted at white collar workers and students aged between 15 and 35. Youth (青春) is the key theme for this drink. For those who are still studying, they are enjoying their youthful years but for those who are already in the workforce, youth for them is a reminiscence.
Also launched is a new plant protein drink designed for celebratory occasions, which is the first of its kind in China. The coconut drink comes in the befitting auspicious 1,250ml red bottle. We all know weddings in China are usually accompanied by toasting and the infamous baijiu. It appears Deyufang wants to change all this with a more somber healthy beverage during weddings. Can this new plant protein drink serve its purpose? Can Chinese consumers say,  I am not only Finished with Fins but Finished with baijiu and wine?

Deyufang had revenues of 500 million yuan (US$80 million) in 2014.
By the way, Coca-Cola has announced the acquisition of Xiamen Culiangwang Beverage Technology Company, which forms a substantial part of China Culiangwang Beverages Holdings Limited, formerly China Green (Holdings) Limited. Xiamen Culiangwang focuses on making plant-protein drink. The acquisition sends a major signal plant-protein drink has become a must-have in the portfolio of MNCs.
Culiangwang