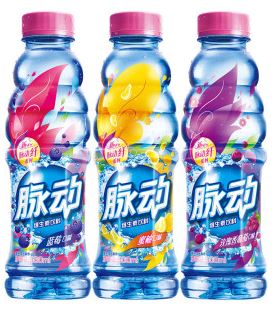 In China, Danone's Maidong (Mizone) has inovated beyond flavour to introduce a feminine range under the 脉动纤系列 Mizone Fiber series in April 2015. Unlike other fiber drink with a contour bottle, the Mizone Fiber range retains the usual bottle design but it now comes with a pink closure and more vibrant colours. The eye-catchy, colourful packaging does amplify the feminine appeal.
When poured out, the flavoured water looks rather like normal water. The three flavours are blueberry, pomelo and rose grape.
Products targeting the female market is now a new battleground for sports drink. At the moment, male accounts for 64% of consumers that are interested in Mizone, compared with 36% female. Mizone also attracts a much younger crowd 25-29 (33.9%), 18-24 (28.2%) and 30-34 (19.9%).
Mizone segmentation – shu.taobao.com (1 July 2011 to 2 May 2015)
The Mizone Fiber drink is a continuation of a series of campaigns by Danone to increase the appeal of Mizone among females. The earlier product Mizone Blueberry, launched in the second half of 2014, was aimed at female consumers.
I want to become Mizone Blueberry cover girl
The Mizone Fiber series contains essential vitamins to help female users restore their body to the optimum level. According to the marketing message, regardless whether one is fat, slim, tall or short, or whether one has a stunning body or pretend to be, one can still have all the confidence as long as one has recovered to the normal state of well being (恢复状态).
It is time to broaden the appeal of sports and energy drinks to unlock opportunities within the female target with the right occasions and the right messages eg restoration and beauty.
Red Bull (left), Ichimore (middle) and Mizone (right) – Shu.Taobao.com from 1 July 2015 to 2 May 2015. Blue is male and pink is female