Milk booster has become a trend and a big business in Malaysia and Indonesia as breastfeeding is back in vogue again. At Thaifex 2017, I come across Iron Mom, the maker of breast milk booster made using homemade recipe and 100% natural. Click here for the Iron Mom Facebook page.
From milk boosting to preventing clogged milk duct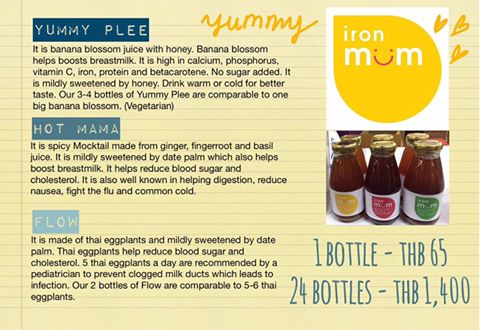 The unique thing about Iron Mom is that it has three products – Yummy Plee, Hot Mama and Flow. Flow is the one that prevents clogged milk duct and is made from Thai eggplants juice and date palms.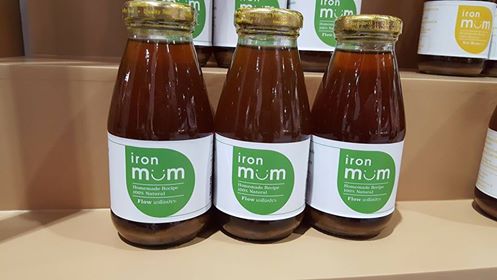 Hot Mama is made with ginger, fingerroot and basil to help boost breast milk, digestion, reduce blood sugar and cholesterol.
Yummy Plee is made from banana blossom juice and high quality honey for pregnant and breastfeeding moms.
Local, trusted ingredients
In Malaysia, kurma or date palm and honey are commonly used in breastmilk booster. For the Chinese in Malaysia, Singapore and Hong Kong, green papaya soup with fish is a traditional lactation booster. In Thailand, mothers turn to banana flower soup to nurture breastfeeding. Each country has a different recipe. So long as it works then it should be fine but it will be harder to export such products to consumers who are not familiar with the benefits of banana flower.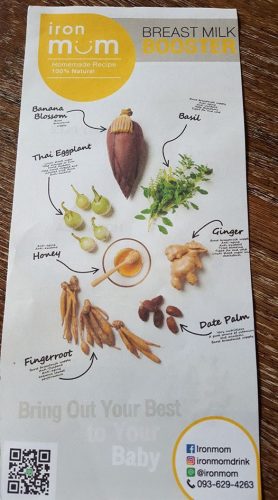 The idea of preventing clogged milk duct is something that Malaysian and Indonesian companies should explore.