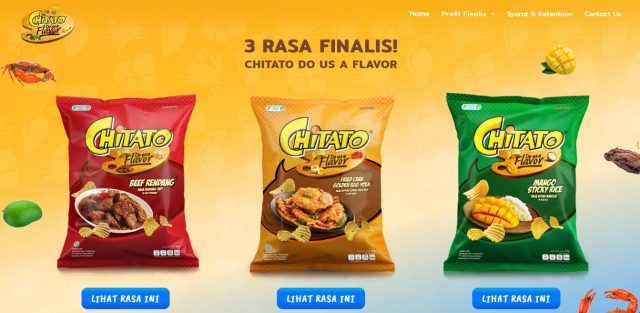 Potato crisp innovation is all about texture and new flavour (sometimes unusual). Indofood has launched three unique flavours based on the creations of its users as part of its #ChitatoDoUsAFlavor contest. The three flavours are Fried Crab Golden Egg Yolk (created by Seifi Yanny), Mango Sticky Rice (by Alia Wijia) and Beef Rendang (by Arif).
The contest duration is from 19 April 2017 to 31 July 2017. The contest is divided into four phases.
Phase 1 – Submission of new flavour
Phase 2 – Selection by internal juries
Phase 3 – The final winner will be selected among the final three shortlisted winners based on retail audit data from Nielsen Indonesia
Phase 4 – Announcement of the final winner
So far, it seems Fried Crab Golden Egg Yolk is leading.

Selfi Yanny claims on her new YouTube posting on 3 March 2018 that her Fried Crab Golden Egg Yolk is the winning taste.

Would salted egg yolk thrive as a new flavour in Indonesia? Already new food innovations are tapping into salted egg yolk or telur asin. A good example is the new KFC Salted Egg Chicken launched in early 2018 under the fast food chain's Taste of Asia banner. The same product was also launched in Malaysia under a different name KFC Golden Egg Crunch for Chinese New Year.

Apart from KFC Salted Egg Chicken, there are other slated egg snacks like Blueduck from Bandung and local ei! It's Salted Egg as well as fish skin chips from thebettertaste.id.
It seems salted egg flavour still has room to grow and it is advisable to ride the wave while it lasts.