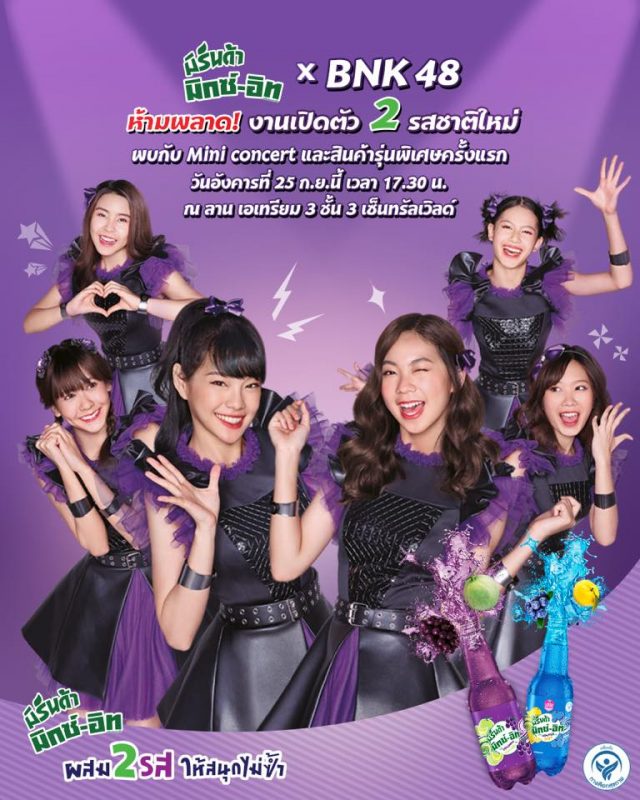 Suntory PepsiCo Beverage (Thailand) Co., Ltd., the bottler and distributor of PepsiCo's beverages including Pepsi, Mirinda, and 7 Up, is launching two new flavors of Mirinda Mix-It that mixes two fruit flavors in one carbonated soft drink, which are Muscat Grape & Japanese Melon flavor and Blueberry & Yuzu Orange flavor, to deliever the great-tasting, refreshing fizz and bracing sensation at any time. Both come as low-sugar drinks with less than 6 grams of sugar content per 100 ml. serving, which won them the "Healthier Choice" symbol for beverages.
Mirinda Mix-It Muscat Grape & Japanese Melon is available in two sizes—300 ml. at  10 baht and 400 ml. at 15 baht—in wholesale stores, restaurants, convenience stores, and department stores nationwide. Mirinda Mix-It Blueberry & Yuzu Orange comes only in 400 ml. size at 15 baht and is retailed exclusively at 7-Eleven stores.
Mirinda Mix-It Blueberry & Yuzu Orange also offers a limited-edition collection comprising of 12 different designs that feature the six Mirinda Mix-It brand ambassadors, namely Cherprang, Pun, Noey, Tarwaan, Pupe, and Jaa of idol girl group BNK48. It will be up for the so-called 'otaku' to grab at 7-Eleven stores nationwide.
Stay tuned to Mirinda Mix-It campaigns at https://www.facebook.com/MirindaMixItThailand and https://www.suntorypepsico.co.th.