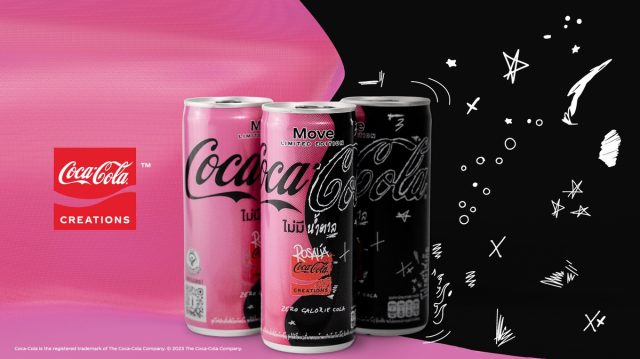 Wednesday 22 March 2023 – Coca-Cola Thailand dropped its boldest and edgiest limited-edition Coca-Cola Creations flavor this year in Thailand. The striking collaboration with musical powerhouse and Grammy-award-winning artist, Rosalia, and the new Coke Creation sets this year's stage for what Coca-Cola has in store for the ASEAN & the South Pacific region this 2023. The brand also revealed this year's resident Coca-Cola 'real magic' maker, PP Krit Amnuaydechkorn, one of Thailand's most popular actor and solo artist amongst Gen Z, who brought even more fun and excitement at the recently concluded "Troop Activity' at the Ampitheater Siam Square Soi 7 last March 19.
Coca-Cola Move is first beverage innovation under the Coca-Cola Creations banner for 2023 and is co-created with Rosalia – a trailblazing artist in breaking boundaries across musical genres, industries, and identities. The new Coke Creation drink aspires to bring the transformational power of music to life just like how the beverage's unique, delicious taste pushes the limits in a surprising way.
Thailand gets to taste the exciting new Creation starting this March. People can grab Coca-Cola Move, which comes in zero sugar variant, at convenience stores, and e-commerce channels across Thailand this March 2023.