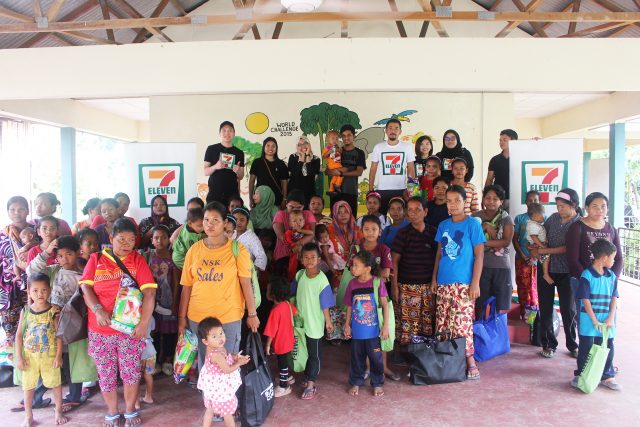 Lanchang, Pahang, 26 October – 7-Eleven Malaysia, the No. 1 standalone convenience store chain operator in the country, recently carried out another CSR activity in collaboration with its start-up, NGOHub Asia by conducting out a 'gotong-royong' (a local slang for community effort) cleanup session at Kampung Orang Asli Sg Enggang.
Residing in Kampung Orang Asli Sg Enggang is the Cheq Wong tribe, known as one of the smallest orang asli tribes in Malaysia. Founded by Zawiyah Ali, the village, which houses 30 impoverished orang asli families, is situated in Lanchang, Pahang with a learning centre built there almost 6 years ago.
As part of the initiative, the team from 7-Eleven Malaysia and NGOHub Asia furnished the learning centre with floor mats, educational posters and stationery supplies to create a better learning environment for the children. A cleanup session took place at the same time, where some volunteers assisted in the cleanup of the common space and drains. Besides that, they also distributed essential provisions such as rice, cooking oil, flour, sugar, amongst others along with special goodie bags containing drinks and soft toys to be brought back home.
"Initiatives like this by 7-Eleven Malaysia help to bring awareness and hope for the Sg Enggang orang asli community. We are sincerely grateful for the support given and are touched to know that there are people out there that cares," said Ali. When asked about what other forms of assistance the community needs, she said, "To support the wellbeing and livelihood of the community, we seek the public to assist through monetary donations as well as regular medical care as the nearest hospital is located quite a distance away."
7-Eleven Malaysia marketing general manager Ronan Lee expressed his delight to partake in this project. "We are happy to have spent time with the community here and to see the smile on their faces when they receive their supplies and goodie bags is especially rewarding. By contributing essential educational materials to the learning centre, we hope that the children would be able to further develop their knowledge and skills in a better-equipped learning environment. Through this acitivity, we also hope to further encourage the support and contribution from the public to aid the orang asli community's welfare and educational needs," said Lee.
About 7-Eleven Malaysia
7-Eleven Malaysia Holdings Berhad through its subsidiary 7-Eleven Malaysia Sdn. Bhd. is the owner and operator of 7-Eleven stores in Malaysia. Incorporated on 4 June 1984, 7-Eleven Malaysia has made its mark in the retailing scene and has been a prominent icon for over 34 years. 7-Eleven Malaysia is the pioneer and largest 24-hour standalone convenience store operator in Malaysia with over 2,250 outlets nationwide and serves more than 900,000 customers daily. 7-Eleven stores can be found across bustling commercial districts to serene suburban residential compounds throughout Malaysia, from petrol stations and LRT stations to shopping malls and medical institutions. 7-Eleven is Always There For You.