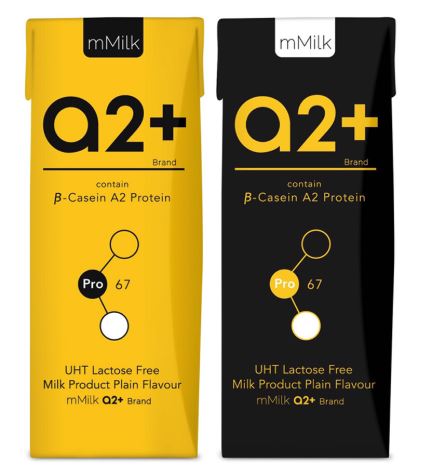 2018 was the year of A2 milk in Southeast Asia. Dairy companies were using A2 milk to offer consumers with a milk that is easy to digest and does not cause stomach discomfort, commonly associated with drinking normal milk with A1 beta-casein.
Indonesia spearheaded the launch in early 2018 with PT ABC Kogen Dairy's KIN Bulgarian yogurt drink, which was made from A2 milk. However, A2 milk was not stated as an ingredient on the packaging The dedicated A2 milk by ABC Kogen Dairy only appeared in the market around July 2018 under the name 0jKIN A2 Cows with three flavours full cream, chocolate and coffee. The KIN A2 Cows fresh milk is promoted as easier to digest and is positioned as the solution for consumers who feel nausea and bloated after consuming normal milk.
Travel writer, TV presenter and lifestyle blogger who had discomfort drinking ordinary milk were recruited to try KIN A2 to showcase how A2 milk allowed them and their children to enjoy milk again.
In Vietnam, both Vinamilk and TH have rolled out their A2 UHT milk. In Thailand, Mary Anne Co., Ltd. debuted the a2+ A2 milk under the mMilk label in September 2018. mMilk a2+ is said to contain β-casein A2 protein and is lactose free. The message is A2 milk is easy to digest and has a protein structure similar to human milk.

TH True Milk A2 is said to relieve acute gastrointestinal symptoms in some people who are lactose intolerant when using normal milk.
The same message is repeated in Vinamilk A2, which explains A2 is suitable for some people who might have some discomfort with regular milk and A2 will bring back the enjoyment of drinking milk.
In Malaysia, Eco Farm Solutions Sdn Bhd announced in October 2018 that it had introduced the first A2 milk product in the East Malaysia state of Sarawak. The stated benefits of A2 milk include "less bloating, abdominal discomfort, reduce signs of gut inflammation and ease digestion." It is available in natural, strawberry and chocolate flavours.
Companies are treading on grey areas as not all scientists agree that A2 milk is better for health. Even a2 Milk, the company that popularises A2 milk, mentions "a2 Milk™ contains the same quantity of lactose that is found in standard milk and will not resolve any medically diagnosed lactose intolerance."
However, a2 Milk stresses the difference between cow's milk intolerance and cow's milk allergy in the Q&A section of its website. "Cows' milk allergy is a serious condition and is different to cows' milk intolerance. If you or your child is known to suffer from a cows' milk allergy, you should consult your doctor or paediatrician before consuming ANY milk variety, including a2 Milk™."
So far we have seen most of the dairy companies that have introduced A2 have invested in their own A2 herds and sourcing their A2 milk internally. Apart from Vietnam's TH Milk and Vinamilk, it is the smaller dairy companies that have embraced A2 milk to stand out in the market.
Instead of moving straight into A2 milk, larger dairy companies in Southeast Asia are more likely to start with lactose-free and this is where most of the Thai dairy firms including Dairy Farming Promotion Organization of Thailand (Thai-Denmark) and CP-Meiji are focusing their innovation effort at the moment.