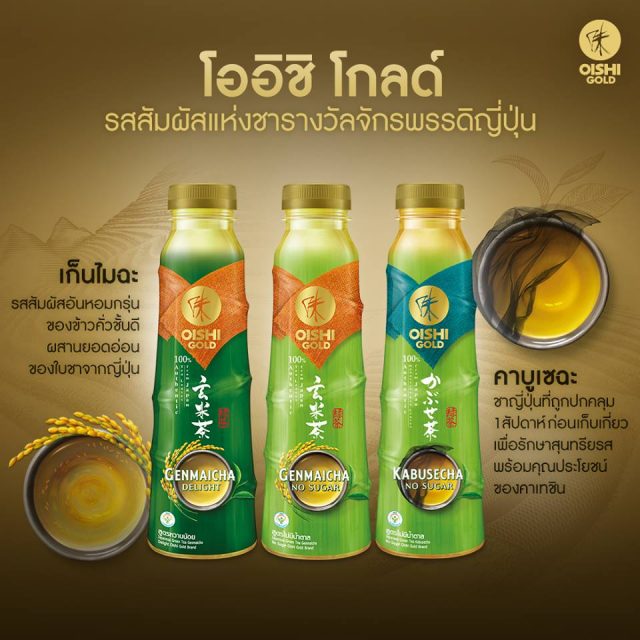 The Thai beverage company Oishi Group PLC has recently introduced Oishi Gold, a premium range of RTD tea for health-conscious consumers, as a response to the challenging market condition. Oishi Group is operating in a tough environment in Thailand, dragged by poor performance of its green tea business, which resulted in a 15.1% decline in the beverage business for the 12 months to 30 September 2018.
The RTD tea market in Thailand was previously artificially boosted by promotions such as free gold bars but consumers have grown tired of these marketing techniques. Nielsen data shows the RTD tea market fell 11% to THB 13.3 billion in 2017 and subsequently declined again in 2018 due to the imposition of sugar tax on sweetened beverages.
Premiumisation is the way forward to boost value growth. Ichitan has done it with Shizuoka tea in Original (no sugar) and Mildly Sweet back in May 2018.
Now, the Oishi Gold label includes Oishi Kabusecha Japanese Green Tea No Sugar, which has been in the market for few years and currently rebranded under the Oishi Gold range. It reminds us of The Coca-Cola's new better-for-you range called Authentic Tea House to house all the low-sugar and no-sugar RTD teas to differentiate them from the sweetened RTD teas under Heaven and Earth.
Apart from Oishi Kabusecha, Oishi Gold has two more new products Genmaicha No Sugar and Genmaicha Delight (low sugar) for RTD tea drinkers who want a no/low-sugar option. The premiumness comes from carefully selected premium Japanese tea leaves and this is supported by marketing emphasising provenance and demonstrating how the tea is brewed to perfection by Japanese tea masters.