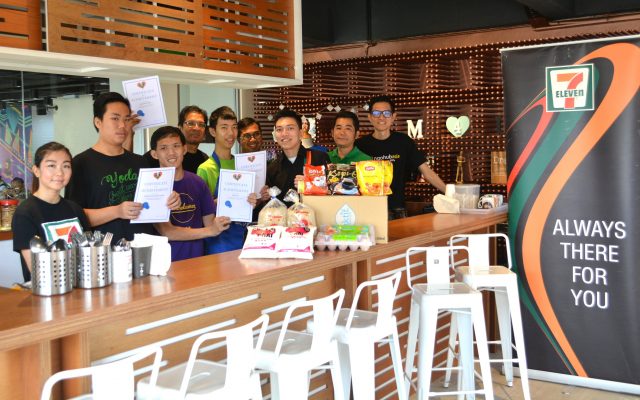 News Release 
4 May 2017
PUCHONG – In support of raising awareness on autism, 7-Eleven Malaysia collaborated with NGO Hub Asia to initiate a short certification program on Café Preparation and Service for autistic youths at Autism Café Project in iM4U Sentral, Taman Perindustrian Puchong.
The Autism Café Project was established last year by its founder, En. Mohd Adli Yahya who aspires to help local autistic youths take charge of their lives in seeking and securing future employment. The café presented an ideal opportunity for 10 of its youths to slowly build their confidence by socializing with others and accomplishing daily tasks.
"As parents, we constantly think of our children's best interests, and raising a child with autism is no different. In fact, it becomes even more crucial for us to be supportive and   guide them through the process of being independent on their own," said En. Adli.
"Knowing that our child is capable to take charge of their own future helps put our mind at ease, as we know that they will be able to support themselves when we are no longer able to," he added with a teary smile.
Volunteers from 7-Eleven Malaysia coordinated the program by mentoring youths to carry out basic café and food service skills such as greeting walk-in customers, serving food and baked goods, as well as cleaning and clearing tableware and kitchen utensils after use. In between, volunteers would provide encouragement and assurance to further boost their confidence.
To acknowledge their efforts upon completion of the certification program, 7-Eleven Malaysia awarded each youth with a certificate and goodie bag. They also contributed a generous supply of provisions consisting of eggs, rice noodles, sugar, coffee and other necessities for the café's daily operations and catering services.
"We are delighted to have fulfilled our part in this community project," said Mr. Ronan Lee, 7-Eleven Malaysia General Manager of Marketing. "We hope that by extending our support towards this cause, we can expand its outreach on garnering more awareness on autism and prompt the public do their part in helping the community."
He further commented, "These youths need our help more than ever. The extent of their capabilities is boundless; and by offering them a chance to learn, we are giving them a future. We at 7-Eleven Malaysia strongly believe in uplifting the lives of those who need us, and knowing the difference we make inspires us to continue our endeavours of being Always There For You."
About 7-Eleven Malaysia
7-Eleven Malaysia Holdings Berhad through its subsidiary 7-Eleven Malaysia Sdn. Bhd. is the owner and operator of 7-Eleven stores in Malaysia. Incorporated on 4 June 1984, 7-Eleven Malaysia has made its mark in the retailing scene and have been a prominent icon for over 32 years. 7-Eleven Malaysia is the pioneer and largest 24-hours standalone convenience store operator in Malaysia with over 2,100 outlets nationwide and serves more than 900,000 customers daily. 7-Eleven stores can be found across bustling commercial districts to serene suburban residential compounds throughout Malaysia, from petrol stations and LRT stations to shopping malls and medical institutions. 7-Eleven is Always There For You.