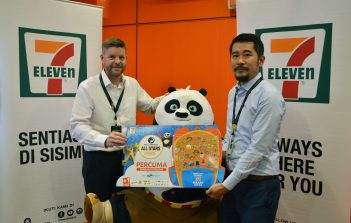 Kuala Lumpur, 28 November 2018 – The latest loyalty redemption campaign from 7-Eleven Malaysia features wildly popular characters from 4 iconic titles of the DreamWorks world! Have a trip with Alex and friends from Madagascar, get into action with Po and his team from KungFu Panda, enjoy bizarre adventures with Shrek and colour your life with the cast of Trolls!
The DreamWorks All Stars PinsTM come in 31 eye-catching designs, each featuring a piece of the DreamWorks world. From now until 21st January 2019, for every selected purchase of RM5 and above in a single receipt at any 7-Eleven outlet, a program sticker will be rewarded. As a bonus, an additional sticker will be rewarded if the purchase includes a promotional partner product. Customers get to score a free pin by simply collecting 10 stickers or may opt to speed up their collection by topping up an additional RM 6.90 once 5 campaign stickers are collected.
7-Eleven Malaysia CEO, Mr. Colin Harvey said, "We always place our customers interests first and we strive to meet their demands by introducing regular innovative programs and promotions. We are pleased to introduce DreamWorks All Stars Pins™ as the culmination of a great year that has already seen the iconic Minions and Marvel characters making an appearance at our stores. We believe these one of a kind pins will win the hearts of many and our customers can come to expect to be rewarded when they shop with us as we're Always There For You."
Ronan Lee, Marketing General Manager of 7-Eleven Malaysia added, "As we close in on the season of giving, these adorable pins are definitely a present worthy of gifting to our loved ones or simply a way to make a fabulous fashion statement as it can be used to accessorize on garments, caps, bags, sneakers and more!. Furthermore, with the 'Let's Pin with Style' online contest, 2 cuddly exclusive XL-sized Po plush toys are up for grabs! Participants simply need to post a photo of them using the pins in the most creative manner on Facebook or Instagram with the hashtags #DWAllStarsPins and #7ElevenMY".
With the recent introduction of various new and exclusive products such as 7-Eleven Malaysia's very own Soft Serve ice cream featuring Malaysia's first ever Ebonylla™ flavour at selected stores to an ever expanding range of fresh food offerings that will suit any discerning palate, additional service providers such as having the convenience of paying PTPTN loan repayments through MOL Pay, 24/7 at any store, daily, weekly and monthly promotions such as its well-accepted Ohsem7 deal of the day, Panaz deals on the 7th and 11th of each month and its signature We've Gone Crazy deals, 7-Eleven Malaysia is truly providing convenience, value and plenty of fun to its loyal customers!
7-Eleven Malaysia is the largest stand-alone convenience store-chain nationwide, with more than 2,250 outlets across the country.  For more information on DreamWorks All Stars Pins™, please visit www.7eleven.com.my or follow 7ElevenMalaysia on Facebook, Instagram and Twitter.
About 7-Eleven Malaysia
7-Eleven Malaysia Holdings Berhad through its subsidiary 7-Eleven Malaysia Sdn. Bhd. is the owner and operator of 7-Eleven stores in Malaysia. Incorporated on 4 June 1984, 7-Eleven Malaysia has made its mark in the retailing scene and have been a prominent icon for over 33 years. 7-Eleven Malaysia is the pioneer and largest 24-hours standalone convenience store operator in Malaysia with over 2,250 outlets nationwide and serves more than 900,000 customers daily. 7-Eleven stores can be found across bustling commercial districts to serene suburban residential compounds throughout Malaysia, from petrol stations and LRT stations to shopping malls and medical institutions. 7-Eleven is Always There For You.