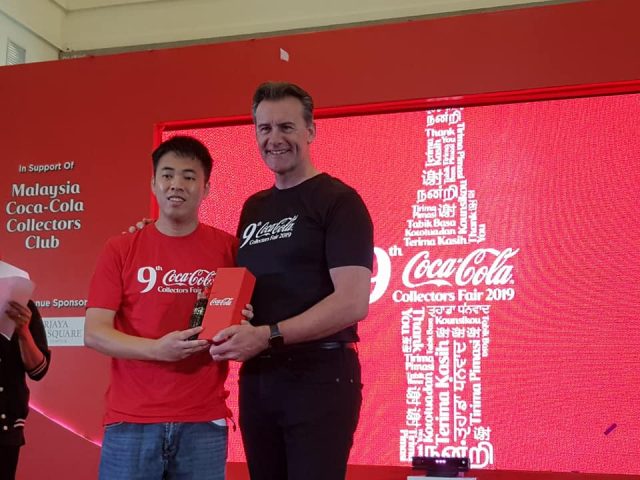 Mini Me Insights had a chance to interview Barry O'Connell, Chief Executive Officer for Malaysia-Singapore-Brunei, Bottling Investments Group, The Coca-Cola Company on the sideline of the launch of the Coca-Cola Collectors Fair 2019 on 4 May 2019.
When asked about the response of The Coca-Cola Company towards the Malaysian government's move to tax sugary beverages from 1 July 2019, the company said it is looking at "reformulation" as among the multiple options being considered at the moments, said O'Connell.
Reformulation, expanding the healthy beverage portfolio
O'Connell said the company has "made significant progress in the last couple of years" when it comes to reformulation. Apart from reformulation, it is looking at portion control and downsizing, while working at expanding its portfolio into healthy beverages.
He added that "it is easy to reduce the sugar content but you will lose consumers because you compromise on taste." The beverage giant is very "deliberate" in what they do when it comes to sugar reduction.
Collaborate with the government
The Coca-Cola Company is continuing to work with the government as the company "believes in the value of being a contributor to the issue of health and wellness."
Coca-Cola Coffee won't be in Malaysia soon
Globally, the company is releasing Coca-Cola Coffee in more than 25 markets by the end of 2019. Coca-Cola Coffee is a blend of Coke soda with coffee targeting consumers who want more caffeine in their drink but less sugar.
For Malaysia, we have to wait because O'Connell said The Coca-Cola Company will not "immediately" launch Coca-Cola Coffee in the country. The reason is the soft drink giant has to make "conscious decision on what to bring in and very often the most difficult decision is not what to bring in." He added that "now is probably not the right time for coffee but then again that could change."
Sports drink market overlapping with sparkling
In Malaysia, the isotonic market and the sparkling market overlap significant, said O'Connell. "Consumers tend to use them for similar things such as hydrate and to get a boost of energy." This means Coca-Cola is directly competing against 100Plus, which is the leader in the isotonic/sport drink segment in Malaysia.
Energy drink remains a small segment
The Coca-Cola Company feels the energy drink market is not as large as other areas. The company's focus will continue to be on soft drinks.
Dairy-based drink and RTD tea are important categories
Dairy will be a significant category for The Coca-Cola Company, said O'Connell. RTD tea is also another big category and the company is making a "very good progress" with Heaven & Earth and Authentic Tea House, added O'Connell. He said there will be more innovations around those two brands in the coming 12 to 18 months.