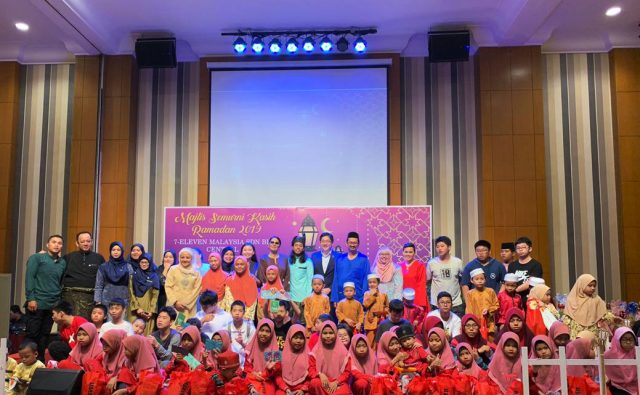 Kuala Lumpur, 12 July 2019 – 7-Eleven Malaysia, the largest stand-alone convenience store chain in Malaysia has engaged its customers in contributing to the underprivileged through a CSR initiative called Semurni Kasih under its Community Care program. The campaign is held in conjunction with the month of Ramadhan, from 30th April 2019 to 10th June 2019 by encouraging customers to donate items purchased at 7-Eleven by dropping them into contribution boxes allocated at more than 2,335 stores nationwide.
This year more than RM3 million worth of provisions consisting of food and non-food items were collected at the end of the campaign and among the items collected were canned food, biscuits, rice, cooking oil, laundry detergent, toiletries and other household essentials. The collection was distributed to various charity organizations across both West and East Malaysia. Incepted in 2008, the annual Semurni Kasih charity programme has given out more than RM19 million worth of necessities to the less fortunate.
Towards the end of campaign, various Raya celebrations were organized across the nation to spread festive cheer to selected beneficiaries of the campaign. These 'open house' events were also an opportunity for the 7-Eleven teams to officially handover collected goods and treat them with scrumptious Hari Raya meal as a token of appreciation to the organizations and commemorate a successful partnership during the campaign period. One such celebration was held at The Pearl Hotel, Kuala Lumpur and attended by representatives from 7-Eleven Malaysia and Semurni Kasih recipients.
"We could not have achieved the amazing results we have yielded without the strong and encouraging support of our customers towards the Semurni Kasih campaign. Every contribution holds the potential to uplift and change the lives of the many underprivileged communities that this campaign has collaborated with. We look forward to the continued generosity from the public as we bring on more CSR endeavors to continue adding value to our local communities," said Marketing General Manager of 7-Eleven Malaysia, Ronan Lee.
Semurni Kasih is part of 7-Eleven Malaysia's Community Care, a non-profit entity set up to implement corporate responsibility and philanthropic initiatives in support of underprivileged groups and sustains environmental conservation efforts.
For more information on Semurni Kasih and 7-Eleven Community Care, please visit www.7eleven.com.my or follow 7ElevenMalaysia on Facebook, Instagram and Twitter.
About 7-Eleven Malaysia
7-Eleven Malaysia Holdings Berhad through its subsidiary 7-Eleven Malaysia Sdn. Bhd. is the owner and operator of 7-Eleven stores in Malaysia. Incorporated on 4 June 1984, 7-Eleven Malaysia has made its mark in the retailing scene and has been a prominent icon for over 35 years. 7-Eleven Malaysia is the pioneer and largest 24-hours standalone convenience store operator in Malaysia with over 2,330 outlets nationwide and serves close to 1 million customers daily. 7-Eleven stores can be found across bustling commercial districts to serene suburban residential compounds throughout Malaysia, from petrol stations and LRT stations to shopping malls and medical institutions. 7-Eleven is Always There For You.