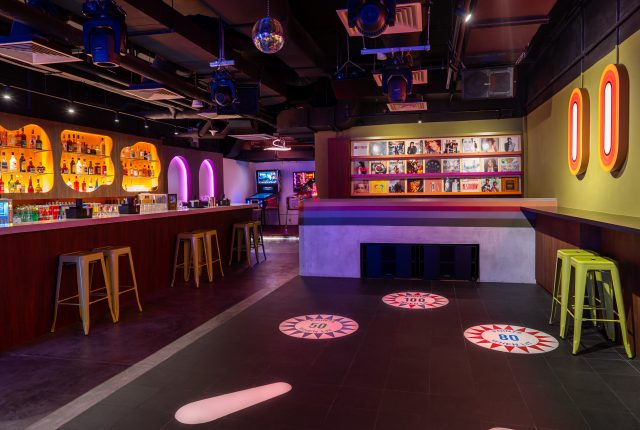 16 September 2019, Singapore – Following the continued success of retro arcade bar and discotheque, NINETEEN80, A Phat Cat Collective is excited to announce the launch of its second bar and club concept, Pinball Wizard. Opening its doors from 18 September 2019, the new space draws inspiration from the vintage glory days of the popular arcade machine, the pinball, with imaginative drinks and music of the 90s mixed with 00s and current hits.
Located in the basement of Sim Lim Square, Pinball Wizard breathes fresh life into the iconic building, in which after opening in the late 80s, has become known as the largest hub for gadgets and tech in Singapore. Pinball Wizard is the first concept bar to open in Sim Lim Square, following the rejuvenation of offerings within the IT mall with hip cafes and retail spaces. Combining timeless pinball games with a great entertainment line-up and bar programme, Pinball Wizard will open throughout the evening before transitioning into club mode at night.
Describing their latest venture, Joshua Pillai, Managing Director of A Phat Cat Collective says, "Sim Lim Square is an unsuspecting yet exciting choice for our newest concept. Fueled by the offbeat charm of Sim Lim Square, we wanted to create a hidden intimate space that is unexpected but stylish with lots of character." Yafith A. Hamid, A Phat Cat Collective's Operations Director, adds, "Pinballs have become a rare find in Singapore, and we are thrilled to introduce a bar and club that puts a spotlight on it. We had requests for pinballs in NINETEEN80, and we thought that it was something that we could build an entire theme around. It is simple and accessible for anyone to play with just two buttons, but it's a game that comes alive and has inspired a massive culture surrounding it."
A Phat Cat Collective is made up of co-founders Joshua Pillai, Yafith A. Hamid (YA5TH) and Francesca Aurora Way, who are known for their curated concepts and events within the F&B and nightlife scene in Singapore. In June 2018, they launched their first concept, NINETEEN80, which is located in the heart of Tanjong Pagar, provides a nostalgic throwback to all things 80s.
As Singapore's only dedicated pinball bar, Pinball Wizard, which is also the name of the classic rock anthem by British rock band, The Who, is an endearing moniker for pinball enthusiasts. Playful creativity abounds in this imaginarium of the past and present, through an out-of-the-box and groovy perspective on music, games, design, innovation and popular culture.
Bar
Pinball Wizard's bar programme is ingenious, cheeky and engaging, with original cocktail creations split into two categories – Signature Cocktails and Cocktail Remixes (all $18 nett). The Signature Cocktails have an element of surprise, from the psychedelic colour-changing Flower Power that uses the blue hue of butterfly pea-infused gin to interact with the elderflower, apple, ginger and lemongrass concoction, to the Berry Poppins with strawberry caviar that literally bursts with flavour to transform the palate.
Meanwhile, the Cocktail Remixes feature fun renditions of well-loved classic cocktails. The Salty White Russian is a salted caramel version of a White Russian with a douse of coffee and cacao spiced rum, while the Negroni Spritzer adds a light and bubbly twist to the otherwise bold and serious aperitif. The Banana Julius Flip, an elevated and adult departure from an Orange Julius, is a vodka-based cocktail with roasted and full-bodied notes from crème de banana, maple syrup and buttermilk.
Shooters are the name of the game at Pinball Wizard, and there are certainly some tricks up its sleeve. Be enchanted by the Glitter Shooters (S$80 nett for ten shots), with two shimmering magic potions available: Crouching Tiger,with a mesmerising mix of tequila, lychee liqueur and chrysanthemum tea; and Peanut Butter & Jelly, a sparkly swirl of black raspberry liqueur, hazelnut liqueur, vodka and cranberry juice. The equally quirky Signature Shooters (S$15 nett each) have the Mango Mojo containing a hidden surprise waiting at the bottom, while the Free Willy is visually stunning with a plasma jellyfish effect in a shooter.
Pinball Wizard is also among the first bars in Singapore to offer eco-spirits as house pours. They include the winter wheat Tried & True vodka from Cognac, citrus-based Widges London dry gin and the Caribbean award-winning Plantation 3 Stars white rum. These boutique and artisanal spirits are not only handcrafted but established an ongoing reusable bottle system with the bar directly to drastically reduce glass wastage. Along with a quality yet affordably priced collection of spirits, a curated range of craft beers and ciders are also available.
Music
A Phat Cat Collective was established for its entertainment curation, and music is definitely one of Pinball Wizard's main attractions. Rooted in the 90s and layered with hits from the 00s to present, it is an undeniable haven for anyone who has lived and breathed through the era of boomboxes to Discmans.
As Pinball Wizard transforms into club mode, a stable of stellar DJs make up the roster with names such as ex-Zouk resident and Eatmepoptart stalwart, Weelikeme; Nicolette (Canvas/Empire); ex-Hard Rock Café resident, Bucko; as well as NINETEEN80's big guns, Ollie'des, YA5TH and Bobos. The resident DJs pump out a unique mix of 90s to current hits ranging from Pop, Rock, Hip Hop, R&B and Alternative and Dance. Weekly themed nights pay tribute to cherished genres of the 90s' heydays. Wednesdays celebrate rock and alternative nights with Rock n' Rolla, and on Thursday ladies' nights, Tilt, Hip Hop veterans Ollie'des and YA5TH churn out tunes from the golden ages of Hip Hop.
Décor
Pinball Wizard's interior is vintage fun meets a pop of modernity. Drawing inspiration from deconstructed elements of a pinball machine playfield, its soul lies in a time capsule of 70s aesthetics, a nod to the pinball's years of inception and rise to its iconic status. From the commanding multi-colour arch entrance symbolising the start of the plunger tunnel to launch off the evening, be catapulted into an immersive world of technicolour funk through vibrant hues, playful lighting, funky textures, and lively patterns and shapes.
While having tipples by the bar, spot the back-bottle display encased in wavy lava lamp bubble forms. The DJ console replicates a vintage record store, with vinyl records proudly on display from various eras as DJs pay their salute to music. Not forgetting the most defining feature of the bar, it's time to play ball. Get those flippers moving at the rows of pinball machines, as guests are able to choose from games such as Dracula, Avengers, Family Guy, Star Wars, The Simpsons, Jurassic Park and Meteor.
Open from Tuesdays to Saturdays, flip, bump, shimmy and roll into fun at Singapore's newest drinking den.